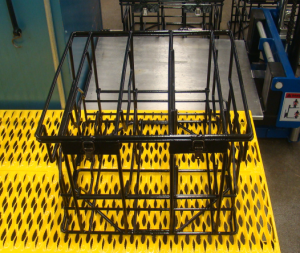 An industry-leading supplier of high-tech systems and components to the aerospace and defense markets recently contacted us to make wire mesh baskets for a parts cleaning system. The products of this company (who requested anonymity for the time being) are used in some of the most advanced technological systems on the planet, often in harsh or otherwise demanding conditions, from harsh deserts to the vacuum of space.
In any of these devices, accuracy is a must. This company has a very strict quality-control method, and every part needs to be manufactured and maintained to specific standards. To ensure a flawless finished product, this company services and cleans their components in a RAMCO washing system. Proper cleaning helps to ensure that parts are defect-free and have no contaminants that could cause issues later.
Getting Parts through the Wash
One of the most important issues to consider when running custom-designed parts through an automated washing system is how that part is going to be held in place throughout the wash cycle. There are two ways to address this issue:
Build a custom washing machine just for that part.
Create a custom washing basket for each part that needs washing.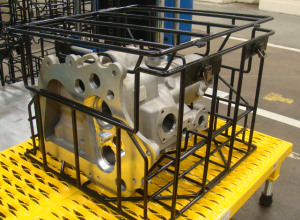 The problem with the first solution is that it is hideously expensive, and once that part is no longer in service, the machine becomes useless dead weight unless another part with identical dimensions is created. The second solution is much more economical, and allows the company to continue using the machine with other new parts as they are designed and added to the production line simply by creating new washing baskets to fit the new parts as needed.
Enter Marlin Steel's Automated Manufacturing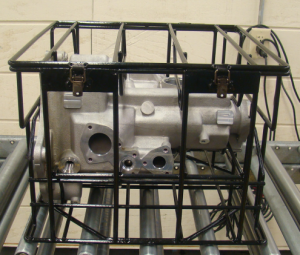 In order to ensure that their parts could be processed by their RAMCO washer in a quick and efficient manner, the services of Marlin Steel were contracted to build the custom wire wash baskets for the wash system.
For most custom wire basket designs, a demonstration model of the part to be washed is used to help designers create a wire frame to go around the part to be washed. Sending such a part to the manufacturer takes time, and can cause the whole production process to slow down as you wait for the wire washing basket manufacturer to receive the part and design a prototype model by hand. Rather, that used to be a problem for wire basket manufacturers.
Thanks to Marlin Steel's investments in high-quality automation procedures and computer design software, our client was able to send us a CAD file of the part they needed a custom wire basket for nearly instantaneously instead of having to wait for shipping. Using computer modeling, Wesley Chan, one of our mechanical engineers, was able to design a basket to house the client's custom-made part.
Once we had a computer model of the wire basket finished (with more than twenty unique parts, not counting custom wire forms), we programmed the specifications of the wire washing basket into our automated manufacturing systems. Hector, our welding expert, oversaw the fabrication of the baskets, and sent prototype units to be tested by the client.
Incredible Results
The result? The wire baskets fit the components manufactured by the client like a glove. What makes this such a stunning example of the efficacy of automation is that the physical components that we were designing the baskets for were never in our shop. Our team was able to handle the design of the baskets in a completely virtual setting, and the precision of our automated systems ensured that they fit perfectly on the first try.
With accuracy of up to 1/4000 of an inch, automation makes precision manufacturing from virtual models possible. Using computer modeling and highly reliable machines, the time it takes to go from a design concept to full production is less than it has ever been.
If you have questions about how our wire products are made, or want to know if we can build a better basket for you, contact us today. Marlin Steel is dedicated to bringing the future of manufacturing to America, and to helping other companies create the best products that they can for their customers.