In contract manufacturing, a manufacturer contracts with another company to make certain components or products over a mutually agreed period of time. The potential benefits for the manufacturer include a quality, dependable supply from a source that has special expertise in an area.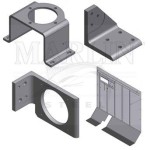 A global supplier in the corrugated box and paper industry contracted with Marlin Steel Wire Products, for example, to fabricate sheet metal parts on a contract basis for its container machines. Marlin Steel was able to serve the client's "Just in Time" needs with speed, engineering expertise and automation capacity.
Tight fit and tight tolerance requirements are Marlin strengths. Degreed mechanical engineers use state-of-the-art software to design steel wire and sheet metal solutions. Skilled machinists carry out those designs. Min/Max quantities help Marlin Steel customers hold down inventory costs and get parts as soon as they need them.