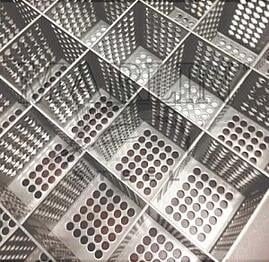 Freudenberg-NOK Sealing Technologies (FST) is a major manufacturer of advanced sealing products based in Weinheim, which lies in southwestern Germany. Originally founded in 1849, the company is still owned by the descendants of Carl Johann Freudenberg, the company's founder.
As a leading manufacturer of seals, Freudenberg Sealing Technologies provides seals for "everything from dental drills and bottling equipment to wind turbines, aircraft and automotive transmissions." Each of these uses demand high precision parts to ensure consistent and safe performance.
To ensure that the seals they make can meet tight production tolerances, FST wanted to facilitate a PPAP, or production part approval process.
What's a PPAP, and How Does It Ensure Quality Parts?
A PPAP is, according to engineering workforce specialist RGBSI, "a standardized process in the automotive and aerospace industries that helps manufacturers and suppliers communicate and approve production designs and processes before, during, and after manufacture."
Many manufacturing companies have developed their own PPAPs, but organizations such as the Automotive Industry Action Group (AIAG) have created some basic industry standards. The basic goal of a PPAP is to establish that parts meet the customer's minimum production quality and tolerance requirements.
By setting minimum standards for part quality and measurement tolerances, as well as making sure that such standards are clearly established and understood by the manufacturer and demonstrated to the customer, a PPAP can help ensure that a manufacturer's parts are high-quality.
In fact, suppliers to the North American auto industry must follow a PPAP to meet the standards set by the AIAG.
What's a Basket Have to do with Freudenberg's PPAP?
FST was undertaking production of rubberized oil seals for automotive production use. As a part of their manufacturing process, FST needed to heat cure the seals. While the company already had a steel mesh basket for this task, they wanted to acquire a more sophisticated solution for their needs, such as custom baskets that would help them better facilitate their production part approval process.
A well-optimized basket design would help keep FST's parts from getting damaged during the heat curing process so that fewer parts would have to be rejected due to surface scratches that would inhibit part performance.
Compartmentalizing the basket would further help improve traceability of parts, and thus accountability for flaws in the manufacturing process.
How Marlin Helped FST's PPAP with a Custom Steel Basket Design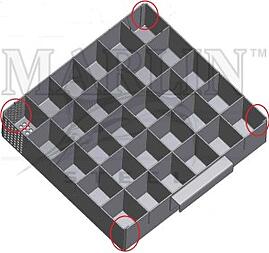 To help Freudenberg Sealing Technologies meet their goals, Marlin's engineers set to work creating a custom steel sheet metal basket. The use of perforated sheet metal in this design over steel wires helped to improve the overall stability and rigidity of the basket, preventing structural failures from exposure to temperature extremes.
The basket was then given perforated sheet metal dividers to split it up into 30 separate compartments. This would prevent the rubberized oil seals from colliding with one another during the heat curing process, when they would be most vulnerable to damage.
According to one of Freudenberg's process engineers, "in a department that produces millions of parts per week, the baskets aided PPAP accountability and eliminated the need for an additional person to track flow."
This freed up a person on each shift to go from handling a largely unproductive paperwork-oriented process to being able to focus on improving productivity at the FST factory floor.
Meeting Freudenberg's Quality Needs
Of course, before the Marlin basket could be made, FST needed to know that the basket would be able to meet their own quality needs.
The seal manufacturer needed a basket that could withstand temperatures in excess of 220 degrees Fahrenheit for 15 hours at a time. Furthermore, parts needed to be protected from scratches that could be caused by sharp edges in the basket.
By using stainless steel for the base material, Marlin's engineers created a custom basket that would easily withstand 220 °F temperatures for prolonged periods of time. To avoid creating sharp edges in the basket, Marlin's engineers used pinch welds on the corners of the basket so that sharp edges wouldn't be an issue.
FST's engineers were particularly impressed by the welds, commenting that "Your pinch weld is nice and clean, like those used in the automotive industry" and "the welds are really clean. Good heavy duty construction… I want to say thank you to you and your team for a job well done. I look forward to doing business with your company in the future."
The designs were tested using virtual physics simulation software to verify that they could meet Freudenberg's manufacturing process requirements before tooling even began. The end result was a strong, sturdy stainless steel sheet metal basket that could protect delicate rubberized parts through the heat curing process with ease and consistency, reducing scrap production.