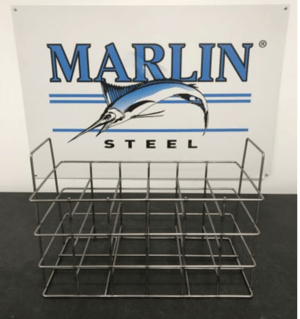 Most non-destructive testing (NDT) methods, particularly ones that require the use of fluids like liquid penetrant testing, require the use of aerospace NDT dipping and drying baskets to effectively test, clean, and dry the test material or product.
Using custom baskets during the testing process can provide incredible value and even improve efficiency. Designed to hold any unique part for clients, Marlin Steel's stainless steel baskets have no sharp edges or burs, can be lined with a variety of high-quality finishes or coatings, and built to meet unique specifications and requirements.
Using Custom Baskets for Non-Destructive Testing
NDT is the careful practice of testing manufactured materials, components, or parts for flaws and incongruencies that can lead to equipment failure, damage, or the need for replacements.
In the aerospace industry, one of the more frequently-used testing methods is liquid penetrant testing. This requires a liquid penetrant to be applied to the test product for defects to be highlighted. Furthermore, the product has to undergo several rounds of cleaning and drying as well.
The resilient, durable nature of Marlin's stainless steel used to create these baskets means they can handle heavy loads while facilitating better parts cleaning and finishing.
5 Reasons to Use Custom Aerospace Baskets for NDT Testing
Using custom baskets during this process allows for it to be a cost-effective option for routine "in-house" inspections during engine maintenance, repair, and overhaul (MRO) operations.
1. They Provide Complete Liquid Coverage
Marlin Steel's standard and custom-designed baskets create a uniform separation of small parts allowing uniform and complete liquid coverage. Specifically designed for aerospace parts, they are built to ensure full exposure to the fluid or solution being used for the liquid penetrant test during NDT without risk of damaging the product or eroding.
2. They Minimize Dwell Time and Improve Productivity
As a result of the complete coverage that custom baskets provide, the dwell time required for liquid penetrants to seep into a defect is minimized. Penetrant dwell time is the total time that the penetrant is in contact with a test product's surface. This advantage accelerates the testing process and increases productivity, as the test product is able to move through the process faster.
3. They Keep Common Parts Together
All Marlin baskets are sized and designed to keep all of the test product's parts together during the liquid penetrant inspection process. This eliminates the risk of losing pieces during the process. Non-destructive testing is meant to keep the integrity of the test product intact. If the custom baskets couldn't successfully deliver the entire product as needed, then the entire NDT process would be compromised.
4. They Can Be Used in Dip Tanks and Drying Stations
Designed to adapt to commonly used hoist systems, Marlin baskets can be efficiently used for washing and drying jet engine parts, making them ideal for use through every step of the testing process. All custom baskets can be dipped, cleaned, and dried along with the test products they're holding, eliminating the need to ever remove the product.
This saves on time and resources as researchers won't need to transfer test products repeatedly. There's also less risk of the test product being damaged during transfer or having pieces lost.
5. They Can Assist with ISO Lot Control Requirements
Individual baskets can be uniquely identified to assist with ISO lot control requirements. Unique cut sheet metal labels can be attached to each basket so that they can be easily tracked through every stage of the NDT process for improved quality control. Clients can even create their own label system for true customizability.
Marlin Steel's Custom Basket Solutions
Stainless steel is a durable material that has superior resistance to corrosion and pitting when used for aerospace applications. With consistent exposure to different solutions and fluids during non-destructive testing, this is an invaluable characteristic in Marlin Steel's custom baskets.
Interested in how custom stainless steel baskets can improve your aerospace NDT process? Reach out to the team at Marlin Steel today!