Marlin's team of engineers and fabricators have had to adapt to many different challenges over the years. Most of the time, these challenges involve overcoming some issue of a given wash process, something that the custom metal form Marlin makes will only be exposed to for a few hors at a time.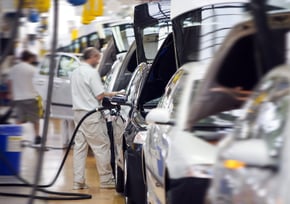 However, some clients turn to Marlin Steel for completely different needs.
For example, Blue1USA, which is described as "a fully integrated manufacturer and distributor of DEF storage and dispensing systems for use by commercial SCR fleets and retail establishments," contracted Marlin Steel for a custom sheet metal form order.
This company needed a custom-made sheet metal enclosure for their green DEF-storage systems. Without the right enclosure, their systems would not be able to function at peak efficiency for long, or be safely moved from one location to the next.
So, Marlin's engineering team set to work creating the perfect sheet metal enclosures to meet Blue1USA's needs. However, before they could finalize any designs, the design team needed to complete a few basic steps first.
Step 1: Understanding the Application for the Enclosures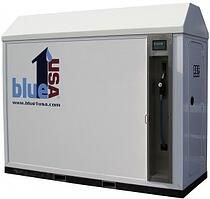 Whenever any Marlin Steel team member is designing a custom metal form for any client, that engineer first has to make sure that they know what the client's application for that custom sheet metal form will be.
Here, the application was to use the sheet metal as an enclosure to hold the client's DEF storage and dispensing systems. But, what is DEF and how is it used?
DEF is an acronym for Diesel Exhaust Fluid. As stated by a Cummins Filtration hand guide, "DEF is the reactant necessary for the functionality of the SCR [Selective Catalytic Reduction] system. It is a carefully blended aqueous urea solution of 32.5% high purity urea and 67.5% deionized water." The "aqueous urea" solution mentioned here refers to a nitrogen compound that, according to the hand guide, "turns to ammonia when heated."
This fluid, in conjunction with a catalytic converter, can massively reduce oxides of nitrogen emissions, turning the harmful NOx emissions into harmless nitrogen and water. This is why DEF is considered a "green" technology. In fact, according to Cummins, "SCR is the leading technology being used to meet 2010 emission regulations."
Understanding the nature of the chemical to be stored, the catalytic conversion process, and the byproducts of the process (water and nitrogen) allowed Marlin's engineers to optimize the custom sheet metal enclosure design and the material choices for it to best withstand the process.