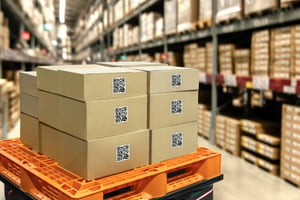 As the coronavirus outbreak (also known as COVID-19) continues to grow, businesses in all industries are starting to feel the pressure. New travel restrictions and "stay at home" orders are crippling numerous businesses—which has a cascade effect on the B2B companies that supply them.
According to data from the Centers for Disease Control and Prevention (CDC), as of April 6, there were 374,329 confirmed cases of COVID-19 and 12,064 deaths caused by the virus. Coronavirus infections have been identified in all 50 states of the USA, and five territories.
How has the coronavirus outbreak impacted the global supply chain? What do these supply chain disruptions mean for manufacturers in the U.S.? Here's a quick look at supply chain current events in light of the coronavirus outbreak, corona's manufacturing impacts, and some strategies for dealing with supply chain disruption caused by the outbreak:
COVID-19's Disruption of the Global Supply Chain So Far
The outbreak of coronavirus has already had a significant impact on international supply chains as countries start to close their borders and enact more stringent import/export processes to prevent the spread of COVID-19. Since the virus first started in China, the "China impact" was almost immediate.
Many companies outsource their manufacturing to Chinese companies. So, when the coronavirus first hit, they were forced to shut down their overseas manufacturing operations. However, this shutdown isn't permanent. As noted by Foreign Policy, "Apple CEO Tim Cook announced that the tech giant would be reopening its factories in China, which had been an early victim of the coronavirus." The COVID-19 outbreak has been a major focus of China trade news.
The closure of foreign factories doesn't necessarily mean production will move back to the USA, however. As noted in the Foreign Policy article, "it's likely to cause reduced manufacturing in North America and other Western countries as failing arrivals of Chinese-made components cause production delays."
The Impacts of Supply Chain Disruption on Manufacturers
Global supply chain disruptions can have several negative effects for American manufacturers and businesses. The problem is that it's easy to underestimate how severe the supply chain disruption COVID-19 causes can be. After all, not many CEOs have a complete picture of their company's supply chain from the collection of raw materials to their final product.
Some of the key potential impacts of manufacturing supply chain disruptions from the coronavirus include:
Production Delays/Stoppages
As noted by Harvard Business Review (HBR):
"Mounting pressure to reduce supply chain costs motivated companies to pursue strategies such as lean manufacturing, offshoring, and outsourcing. Such cost-cutting measures mean that when there is a supply-chain disruption, manufacturing will stop quickly because of a lack of parts."
For example, when the steel supply chain is disrupted and manufacturers don't have a surplus of steel in stock, they will find themselves unable to keep producing products. This results in a near-immediate stoppage on production and long delays as manufacturers scramble to find alternate sources for key materials/parts.
Potential Loss of Suppliers
The disruption of supply chains due to COVID-19 could cause some suppliers to go out of business. This could cause delays in production to worsen until manufacturers can find alternative sources for their critical supplies. While it is unlikely that government-backed Chinese companies will go completely under, other suppliers may struggle to contend with a loss of business.
Loss of Customers
Manufacturers with long production lead times from supply chain delays may find themselves losing customers. Worse yet, the quarantine orders being put in place throughout the U.S. are causing many manufacturers' clients to close their doors. So, it's becoming harder for American manufacturers to find new clients to replace the ones that leave.
Strategies to Bolster Your Manufacturing Supply Chain
How can American manufacturing companies overcome the supply chain challenges imposed by COVID-19? While there is no perfect answer, there are a few things that manufacturers can do to limit the risks posed by supply chain disruptions, including:
Diversifying Suppliers. Sources like HBR recommend "Sourcing from two suppliers (75%-25%) rather than one." Doing this gives manufacturers an alternative source of materials if events cause their primary supplier to shut its doors or delay shipments.
Identify Your Tier 2 Suppliers. Who supplies the suppliers? Many companies that partner with manufacturers themselves outsource the collection of raw materials to another company. For example, steel smelting companies often purchase raw materials from various mining companies. Knowing who these second-tier suppliers are can help to identify potential risks so they can be mitigated.
Invest in Round the Clock Monitoring of Suppliers. Keeping an eye on suppliers for signs of impending change or service disruption is crucial for avoiding disruptions. If a supplier is experiencing significant internal restructuring, lawsuits, or other identifiable risk factors, it may be time to search for an alternative supply.
Map the Entire Supply Chain When Possible. Aside from knowing who the "Tier 2" suppliers are that work with their own suppliers, manufacturers should know as much about the lifecycle of the materials/products they use as possible. As noted by HBR, "companies that had mapped their supply chain already knew which parts and raw materials were originating in the Wuhan and Hubei areas and, as a result, could bypass the frantic hunt for information and fast-track their responses." Knowing that the source of a particular product or material is threatened can help improve speed of response so alternative supplies can be procured sooner.
Be Open in Communications with Customers. Manufacturers need to openly communicate with their clients to let them know if and when deliverables will be delayed. Practicing excellent customer service and communication can help to preserve relationships with customers. Also, customers are more likely to extend lenience on deadlines if they know how global supply chain disruptions are impacting the manufacturer.
Marlin Steel's Commitment to Reliability
In the wake of the COVID-19 crisis, Marlin Steel is committed to remaining as reliable and fast-acting as possible. In addition to sourcing our steel from American companies, we keep a stock of the most popular types of stainless steel wire onsite so we can start production immediately.
Our employees also use automated tools to shape and join stainless steel work pieces. This allows them to create high-quality stainless steel wire baskets, carts, and trays while following social distancing practices.
Do you need a stainless steel wire form that complies with strict sanitation guidelines? Reach out to the Marlin Steel team today!