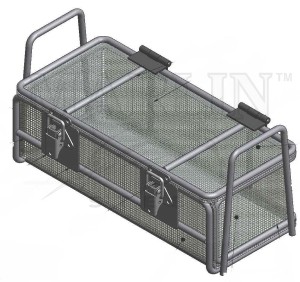 Zoetis, a subsidiary of the global pharmaceutical company Pfizer, is the largest producer of medicine and vaccinations for pets and livestock. At one of its processing facilities, portable pumps are used to transfer medicine into vials.
The pumps were being transported through the facility in various containers. Managers found that the pumps -- sensitive instruments with tight tolerances -- were being fractured during movement. Zoetis engineers initially considered fabricating a container in-house, but were led to Marlin Steel online. Marlin custom-designed steel wire mesh baskets with handles and latchable lids to secure the pumps throughout the process, including washing for reuse.
A "reliability specialist" for the company didn't mince words when describing Marlin's stainless steel wire solution: They're "top notch, the best, exceeded expectations," he said.