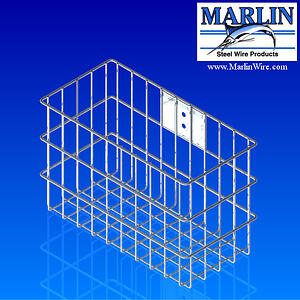 From metal baskets that mount on bicycles and scooters, to ones that mount on walls and other static fixtures, there are many different types of mounting baskets. Because of the different applications, environments, and loads that each of these baskets will be used with, it is rare for any two custom mounting basket orders to be exactly the same.
Today, we wanted to take a quick look at some of our past mounting basket designs and the challenges involved with each.
Mounting Basket #01065001
This basket is an example of a fairly basic design for outdoor use. For this basket, the customer needed something that could hold up to 25 pounds of weight in typical outdoor conditions.
For this basic basket, plain steel was enough to meet the customer's needs. Plain steel, as a material, is sturdy, with a good tensile strength that allowed the .121" thick wires to easily hold 25 lbs. of weight required for this design.
The wires of this basket followed a simple crosshatch design, with five long wires and ten "short" wires, each one bent at a 90 degree angle and overlapped to create a 9" deep basket to hold objects. Where the wires overlap at the bottom, there are square openings of 1.38" at regular intervals, making the basket ideal for objects that are 1.5 square inches or more in size.
To make the basket sturdier, a series of three 1.88" thick wires were welded to the outside edges of the basket. These reinforcing wires help the other wires hold their shape when carrying heavier loads, preserving the strength of the basket and prolonging its useful life.
Of course, a mounting basket needs to be able to mount easily, so a small sheet metal plate was welded to the basket near the top center. This sheet metal plate was fitted with two vertically aligned holes, making it possible for the basket to be attached to a wall or a custom assembly via the use of two small screws.
Mounting Basket #01122001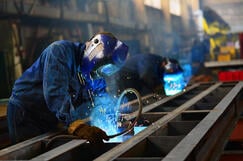 In many ways, this basket is similar to the one described above. Similar to the one above, this basket is made from plain steel, and has a simple design featuring numerous wires with two 90 degree angle bends to make a basket shape.
While similar to the previous basket, this design has several key differences, including:
Black Powder Coat. Rather than leaving the steel naked, without any kind of protective coat, this basket features a simple black powder coating.
Handles. While still a mounting basket, this basket was also equipped with handles for manual handling.
Two SM Mounting Plates. Rather than welding a single mounting plate directly to the frame, two SM mounting plates were provided for assembly by the customer. These plates could be added or removed as necessary for the customer's convenience.
Fewer Reinforcements. The loads this basket was designed to take were considerably lower than for the above basket, so fewer thick frame wires were needed. This helped to reduce costs for each basket.
The result is a basket with a more polished aesthetic appeal and more utility for manual handling.
Mounting Basket #01676001
Unlike the previous two baskets, this basket features a slanted top instead of a flat one. At a width of 18.75", a length of 10.487", and a depth of 4.235" at the shallow end (8.752" at the tall end), this basket is ideal for holding large objects.
Aside from the angular design, this basket is very similar to the previous one, with a white powder coat instead of a black one, and a large sheet metal plate welded to the basket with four holes drilled into it for mounting on other large objects. With four screw holes, the weight of the basket's contents will be distributed more evenly, reducing wear and tear on each mounting screw.
Top Mounting Basket Design Considerations
For any mounting basket design, it is important to keep in mind the following:
Dimensions of Parts/Materials to be Loaded in the Basket. Mounted basket designs, especially for baskets made from wire mesh, need to carefully control the amount of open space in the basket. If the basket is too open for the parts and materials it is supposed to hold, said parts will simply fall through, negating the utility of the basket.
Use Conditions. Is the mounting basket being used indoors, or is it being mounted on something that will be frequently exposed to the elements? Choosing materials with the appropriate levels of resistance to corrosives, water, and other environmental factors is important to ensuring the best balance between cost and useful life of your baskets.
Mounting Location. Is the basket being mounted on a moving vehicle, or on a static fixture such as a wall, desk, or shelf? The nature of the mounting is largely determined by where the basket is to be mounted, and…
Weight of Held Objects. The heavier the load, the more heavily reinforced the basket and its mount will need to be.
These are but a few of the issues that a design engineer has to consider when creating a custom mounting basket design to meet a client's needs.
To learn more about how we design custom wire mounting baskets, or for information about your wire basket order, contact Marlin Steel today!