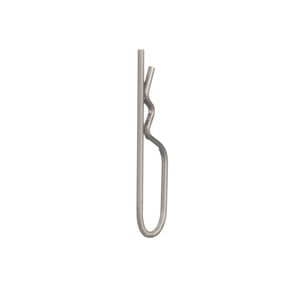 Cotter pins are a common tool for fastening objects that you may need to quickly disassemble later. In pharmaceutical and healthcare applications, however, not just any cotter pin will do. Cotter pins used in sterile environments need to be resistant to rusting from exposure to open air, bodily fluids, and other chemicals.
Rusty cotter pins can introduce a contamination risk into operating rooms or pharmacological product manufacturing centers.
So, despite being a simple wire form, Marlin's American-based manufacturing team treats the production of stainless steel cotter pins for medical applications every bit as seriously as they do every other precision engineered metal form they create. Here's how Marlin makes a better cotter pin for medical applications:
Using Surgical-Grade 316 Stainless Steel
Because plain steel would quickly rust in many medical environments without additional protection, Marlin Steel makes grade 316 stainless steel cotter pins instead. Grade 316 stainless steel possesses extraordinary resistance to chemical exposure, particularly to chlorides, as well as the tensile strength characteristic of most steel alloys.
Electropolishing the Cotter Pins
To further enhance the resistance characteristics of the 316 stainless steel cotter pins, Marlin Steel can electropolish the pins. This creates a microscopically-smooth surface that prevents microbes from finding purchase—helping to improve the ease of sanitation for the pins. Also, this reinforces the protective oxide layer of the stainless steel, improving overall resistance to chemical exposure.
Using Wire Bending Robots
Rather than using manual labor to shape each cotter pin, Marlin uses an assortment of wire bending robots to ensure that each cotter pin is precisely the right length and shape. Because these robots don't get tired, bored, or suffer repetitive motion stress injuries like manual laborers, they can bend wires all day, every day without losing accuracy.
Furthermore, Marlin has high-tonnage stamping machines to custom-shape the ends of the cotter pins, if need be. One of the more common operations is to swage the ends of the pins so they can be inserted into a hole more easily.
Designing Custom Cotter Pins for Special Applications
While Marlin Steel has a "standard" cotter pin design that it can mass produce on short notice, the engineering team can also design custom-shaped pins to fasten unusually-shaped objects as well.
Each of these custom designs is then put through a series of virtual physics simulations to verify that they can withstand years of frequent use without becoming degraded or bent.
Shipping Cotter Pins Is Fast from Marlin's Baltimore Factory
Every cotter pin made by Marlin Steel is manufactured and shipped from Marlin's factory in Baltimore Maryland. For Marlin's U.S.-based customers, this means getting lightning-fast shipping because, unlike foreign-made metal forms, Marlin's "Made in America" products don't have to wait for customs or for space on an overseas freight—they go straight from domestic production to being shipped to the customer.
In-stock cotter pins don't even have to wait for production; they can be shipped immediately while their replacement stock is being manufactured.
Long story short, Marlin Steel provides made in America quality that goes above and beyond the "minimum acceptable value" offered by foreign manufacturers who rely on sweatshop labor and can ship out custom wire forms in a fraction of the time as well—providing "Quality, Engineered Quick®" to pharmaceutical companies and healthcare facilities throughout the USA!
Need a custom cotter pin fast? Contact the experts at Marlin Steel right away!