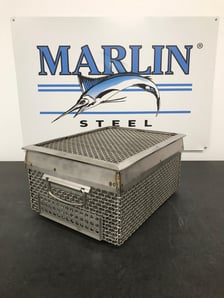 There are hundreds of different grades of stainless steel on the market. Each of these unique formulations of stainless steel offer some degree of corrosion resistance above and beyond that of plain steel.
The existence of these stainless steel variants can cause some confusion—especially when the names & formulations of two stainless steel alloys are almost the same. This is the case with grade 304 and 304L stainless steel.
Here's a quick table comparing stainless steel material properties for these two 300 series metals:
| | | |
| --- | --- | --- |
| Composition Table | Grade 304 SS Chemical Content by % | Grade 304L SS Chemical Content by % |
| Carbon | 0.08 Max | 0.03 Max |
| Chromium | 18.00-20.00 | 18.00-20.00 |
| Iron | Makes up the Balance | Makes up the Balance |
| Manganese | 2.00 Max | 2.00 Max |
| Nickel | 8.00-12.00 | 8.00-12.00 |
| Nitrogen | 0.10 Max | 0.10 Max |
| Phosphorus | 0.045 Max | 0.045 Max |
| Silicon | 0.75 Max | 0.75 Max |
| Sulfur | 0.030 Max | 0.030 Max |
These two alloys are remarkably similar in their chemical composition—but there is one key difference. In grade 304 stainless steel, the maximum carbon content is set at 0.08%, whereas grade 304L stainless steel has a maximum carbon content of 0.03%. This is why the "L" in 304L can be interpreted as meaning extra-low carbon.
This difference of 0.05% carbon content produces a slight, but marked, difference in the performances of the two alloys.
Stainless Steel Material Properties
Though there are numerous grades and varieties of stainless steel out there on the market, they share similar properties of corrosion resistance and high strength. Each grade has varying degrees of these properties. When compared to standard steel, stainless steel material properties generally translate into higher corrosion resistance, higher ductility, higher tensile strength, and both higher cryogenic and heat toughness.
These admirable properties of stainless steel make it well suited for multiple applications across a variety of different industries. However, each stainless steel grade has its own unique degree of these properties which makes them suited for different applications.
The 300 series of stainless steel is classified as austenitic steel and is especially recognized for its hardiness, easy maintenance, and strong corrosion resistant abilities. With these advantageous material properties, the 300 series is used for a wide variety of applications. Predominantly, the 300 series is used in the automotive, construction, and aerospace industries. Grade 304 is the most widely used alloy of this series.
Stainless Steel Mechanical Properties and Differences
The other key differences between grade 304 and its variant, grade 304L, are between their mechanical properties. Grade 304L has a slight, but noticeable, reduction in key mechanical performance characteristics compared to the "standard" grade 304 stainless steel alloy.
For example, the ultimate tensile strength (UTS) of 304L is roughly 85 ksi (~586 MPa), less than the UTS of standard grade 304 stainless, which is 90 ksi (~620 MPa). The difference in yield strength is slightly greater, with 304 SS having a 0.2% yield strength of 42 ksi (~289 MPa) and 304L having a 0.2% yield strength of 35 ksi (~241 MPa).
This means that if you had two steel wire baskets and both baskets had the exact same design, wire thickness, and construction, the basket made from 304L would be structurally weaker than the standard 304 basket.
However, the density of 304 stainless steel is the same as 304L.
Why Would You Want to Use 304L, Then?
So, if 304L is weaker than standard 304 stainless steel, why would anyone want to use it?
The answer is that the 304L alloy's lower carbon content helps minimize/eliminate carbide precipitation during the welding process. This allows 304L stainless steel to be used in the "as-welded" state, even in severely corrosive environments.
If you were to use standard 304 stainless in the same way, it would degrade much faster at the weld joints.
Basically, using 304L eliminates the need to anneal weld joints prior to using the completed metal form—saving time and effort.
In practice, both 304 and 304L can be used for many of the same applications. The differences are often minor enough that one isn't considered massively more useful over the other. When stronger corrosion resistance is needed, other alloys, such as grade 316 stainless steel, are usually considered as an alternative.
Marlin Steel frequently uses grade 304 stainless steel for wire forms due to its combination of high-temperature resistance, corrosion resistance, and strength. While 304L is more useful for heavy gauge components that need strong weld joints, 304 is a versatile material for durable wire baskets. When deciding upon the material, the application of the stainless steel product will help determine which grade and type of stainless steel will be best suited for your needs.
Need help crafting the perfect parts handling/washing basket to make your production process more effective & efficient? Get some detailed advice from an experienced mechanical engineer today!
Want to Learn More About Stainless Steel Properties?