Food processing manufacturers must meet stringent demands put in place by the FDA to ensure their food is safe for consumption. They must also meet supply demands by keeping a consistent product flow.
Food processing equipment can hinder or help food manufacturers, depending on the quality of the equipment they use.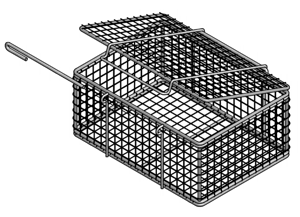 Before you choose your food processing equipment, there are a few things you should know.
FDA Regulations on Food Processing
The FDA is strict on the materials manufacturers use when processing food in order to ensure consumers are safe by minimizing foodborne illnesses.
Under section 416.3 Equipment and Utensils in the Sanitation Performance Standards Compliance Guide, the equipment surfaces that food comes into contact with may not allow the migration of harmful substances or impart odors, colors, or tastes to food.
The equipment should be:
Safe

Durable, corrosion-resistant, and non-absorbent

Sufficient in weight and thickness to withstand repeated warewashing

Finished to have a smooth, easily cleanable surface

Resistant to pitting, chipping, crazing, scoring, scratching, distortion, and decomposition
Manufacturers must meet these requirements for all of the food handling and processing equipment they use to avoid disastrous food contamination.
Types of Food Processing Equipment
Food processing equipment is a broad term used to refer to any components that come into contact with food and food products during the manufacturing process.
Here are some different types of food processing equipment.
Preparation Equipment
This equipment type comes into contact with raw food materials during the initial preparatory operations. Some equipment may include washing systems, separators, sorters, and peelers.
The preparation equipment may be manual or mechanical.
Mechanical Processing Equipment
Mechanical processing equipment is involved in the processing operations of food that aim to change the physical form and size of the food. This type of equipment is responsible for grinding, crushing, cutting, and forming the food.
Heat Processing Equipment
Heat processing equipment heats up food materials and changes the physical, chemical, biological, and biochemical properties of the food (e.g., an industrial oven baking bread).
This equipment assists in the preservation of food by destroying microorganisms and reducing moisture in food.
Heat processing equipment includes ovens, blanchers, dryers, and heat exchangers.
Preservation Equipment
The preservation stage of food processing involves equipment that prevents or inhibits food spoilage to increase the shelf life of the food products.
There is a wide range of preservation equipment available to destroy or depress the activity or microorganisms and enzymes.
Some preservation methods include chilling, salting, smoking, irradiation, vacuum drying, and others.
Material Handling, Product Packaging, and Distribution Equipment
Product packaging equipment is used in the post-processing operations. Food material is handled using FDA-safe equipment such as Marlin's stainless steel baskets and carts. Then, it is contained, protected, and preserved by the packaging.
Other equipment is also needed to store food products until they are ready to be distributed.
4 Considerations When Choosing the Right Food Processing Equipment
Here are four aspects you should think about before purchasing food processing equipment.
Sanitation
Sanitation is the most important thing to consider when you are choosing food processing equipment. You'll need to use equipment with metal surfaces that doesn't leech into food or absorb harmful contaminants.
The equipment you use will come into contact with various food items and metals that hold onto microorganisms, dust, or other contaminants that will cause your food to become tainted. This costs you money and often slows down your supply chain.
Maintenance
Food processing equipment should be able to withstand a variety of conditions such as extreme temperatures, heavy loads, and repeated usage.
Marlin's Grade 304 stainless steel wire baskets are durable and easy to upkeep with light maintenance. They can also withstand low temperatures, such as when foods require flash freezing.
Waste Management
A goal in lean manufacturing is to limit waste by managing it effectively. Contaminated products from improper use of manufacturing equipment or from choosing the wrong food processing equipment cause more waste.
Using food-grade and quality metals for your food to come into contact with, such as Marlin's stainless steel baskets and trays, can help you to minimize waste, saving your business money and reducing environmental impact.
Product Flow
Using faulty food processing equipment slows down the flow of production. High-quality equipment and food processing materials help you to keep up with demand because you won't need to consistently fix issues that come up with the equipment.
You wouldn't want to transport materials in a wire basket that has a faulty lid, causing food items to fall out.
How Marlin's Custom Wire Baskets Help
With food processing, maintaining sanitation, reducing waste, and achieving a good product flow are all essential to facilitate operational efficiency. Marlin's food-grade wire baskets maintain high levels of sanitation and can be customized to fit your needs to help you with your food manufacturing challenges.
The expert engineers at Marlin have a wealth of experience crafting wire baskets with the right dimensions and proper coatings for your applications. Reach out to the Marlin team today for more information and ideas about how you can make use of custom food processing baskets.