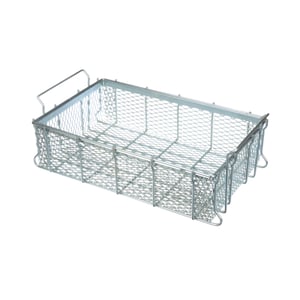 Expanded metal is sometimes considered an alternative to sheet metal or wire mesh that combines some of the best features of both—providing a material that is stronger than thin wire mesh and has better air flow than sheet metal. However, many of Marlin's customers wonder how the material is made and if it is really a preferable alternative to sheet metal or wire mesh.
Here's a quick explanation of how expanded sheet metal is made, and when it is the preferable alternative to steel wire mesh or sheet metal:
How is Expanded Metal Made?
The process for making expanded metal is relatively simple—and hasn't changed much since it was first invented. To create expanded metal, sheet metal is passed through a device called an "expanding machine," which is similar to a plate rolling machine—but fitted with cutting edges that punch holes into the metal plate as it passes through the machine.
The dimensions of the holes in the expanded metal will vary depending on the size and shape of the expanding machine's cutting edges. However, diamond-cut patterns are the most common.
After being passed through the expanding machine, the expanded metal mesh can either be used as-is or passed through a cold rolling process to create flattened expanded metal mesh. The flattening process makes the strands and bonds of the expanded sheet metal wider and thinner—though the exact dimensions of the flattened sheet metal can vary in ways that are difficult to accurately estimate before the flattening occurs.
Why Should Expanded Sheet Metal Be Used for a Custom Basket Design?
There are numerous benefits to using expanded metal mesh for a custom basket design, such as it:
Having better air flow than perforated sheet metal;
Being less costly than sheet metal;
Wasting less material than perforated sheet metal;
Being stronger than wire mesh;
Weighing less than traditional sheet metal; and
Being easier to weld than wire mesh.
Expanded metal mesh is ideal for heavy-duty parts washing applications where sheet metal would prohibit air or fluids from flowing, but thin steel wires would not be strong enough to safely hold the parts.
Additionally, because expanded metal mesh is one solid piece of material, there's no need to weld the individual strands together—which saves time and money on the manufacturing process while ensuring higher structural integrity.
Have questions about expanded sheet metal mesh and whether it would be suitable for your manufacturing processes? Reach out to the Marlin Steel team today to discuss your custom basket needs.