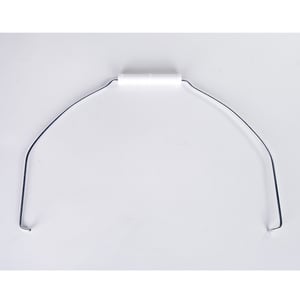 Responsible for shipping millions of pail and wire bucket handles all over the country and exporting to numerous overseas countries, BAWFC is the oldest and largest manufacturer of handles in the United States. In November 2020, BAWFC was sold to Marlin Steel for a new chapter of collaboration in the company's rich history.
Marlin Steel had the privilege of interviewing Charlie Jenkins, the president of the Baltimore Automatic Wire Forming Corporation (BAWFC). Here are some of the highlights from the interview!
Quick Links:
Meet the Baltimore Automatic Wire Forming Corporation (BAWFC)
BAWFC has had an enduring legacy of building high-quality, 100% American made wire handles extending back to when Charlie Jenkins's father started the business in 1956 in South Baltimore, Maryland. In those early years, BAWFC had humble beginnings. Since their manufacturing facility was too small, Jenkins's father had to rent out small garages all over the South Baltimore area to store his finished products. Eventually, the corporation moved to its current location in 1963.
Jenkins first began being involved with his father in the company around eight to ten years old when he wasn't in school, whether making boxes or helping to prepare employees to work on the machines. Jenkins said he loved those early years when his dad would take him to work because he was learning things "older kids didn't even know about". As a machine operator at a young age, Jenkins personally made millions of handles. "I seemed like I was born with a wire handle because I started at such a young age," he said.
Charlie Jenkins said his father always fixated on the quality of the products, the safety of the employees, and serving customers. When his father passed the business onto him, he gave him some advice on focusing on the business, "the number one thing was to take care...of your employees," he said. "Make sure they're well taken care of because your employees are your profit."
Due to BAWFC's emphasis on quality and customer service, the corporation has garnered a very dedicated client base with some relationships spanning more than five decades. Most of the clients are in the container and paint companies industry, needing handles for cans and buckets for paint and drywall. As these clients began to grow and become more successful, so did BAWFC.
Jenkins admitted his father was a perfectionist and he inherited the same traits himself. Those same traits - being focused on employee wellbeing and quality - has led BAWFC to the success it finds itself today.
Key Takeaways From BAWFC President Charlie Jenkins
Here are some of the key takeaways from the Marlin Steel interview with BAWFC President Charlie Jenkins:
Why Are High-Quality Handles Important?
Wire handles from BAWFC are created with the utmost quality in mind because the handles have to ensure plenty of stress. Good quality wire handles should be able to withstand stressors for repeated use.
What Makes BAWFC Wire Handles a Quality Product?
BAWFC has over 65 years of expertise and experience manufacturing high-quality American-made wire and bucket pail handles. The corporation has the right machines to create precise products and expert employees who have years of experience working with BAWFC. Those same employees will be transferred to Marlin to continue working on the wire handles that made BAWFC famous.
Why Does BAWFC Only Use American-Made Steel?
Over the years, BAWFC has tried numerous types of different wires, including foreign-made ones, and has found that U.S.- made steel is always the most superior one. Additionally, BAWFC wants domestic customers to buy more USA made products to help support the American economy. According to Jenkins, BAWFC will always use American-made products, especially steel, unless there is a lack of supplies.
How Are Marlin Steel and BAWFC Preparing for a Smooth Transition?
BAWFC has some employers with over 40 years and 25 years of tenure that are moving with BAWFC to Marlin Steel, as well as all of the corporations' equipment. This, with all the institutional knowledge the employees carry, is critical for expanding the business and the success of the acquisition. Since Marlin Steel acquired BAWFC in November 2020, the corporation has been preparing for a smooth transition for all its experienced employees and high-quality machines to be able to go to work!
How Has BAWFC Enjoyed Marlin Steel Facilities?
Jenkins has said of the move to Marlin Steel: "It's great, [Marlin Steel] has wonderful facilities. It's very large and lot's of room to grow in." He commented that he has met a lot of great Marlin Steel employees and that everyone he has met is very enthusiastic about what they do.
How Well Does Marlin Steel Consider Employee Safety?
Jenkins commented that Marlin Steel treats its employees very well. He said they were top-notch, talented people and seemed very happy.
Regarding the safety procedures at Marlin Steel, Jenkins observed that everyone is very careful, experienced, and well-taught. "This shows that Marlin Steel really cares for their employees and respects them because they want them to be safe," he said.
What About Marlin is Advantageous to Clients?
Marlin offers a blanket order program that allows for same-day shipments, reduces cash tied up in inventory, and can free up tight floor space.
Jenkins thinks these benefits will be beneficial for the clients BAWFC has brought over to Marlin. As Jenkins says, it's an ideal situation because everyone needs more space and clients want their products as soon as possible.
What Attributes of the Marlin Steel Team Will Matter to BAWFC Clients?
Both the BAWFC and Marlin Steel teams have plenty to gain from each other. While the BAWFC acquisition has brought over the experience from BAWFC employees, they can also learn from the talents of the Marlin Steel team for enhanced collaboration. "All around, this is a great team," Jenkins summarized.
One thing that stuck out to Jenkins was Marlin Steel's great quality control. Marlin's engineers focus on working on details while they have a "wonderful maintenance department" in case repairs are needed.
Now that the Marlin Steel and BAWFC teams are collaborating to provide American-made steel handles, clients can expect to find a very enthusiastic and long-lived business relationship that will thrive into 2021.
Watch the Charlie Jenkins Interview for Yourself!
Want to watch the interview? Check it out down below.
Further Resources About BAWFC and Marlin Steel
For some more information on BAWFC and Marlin Steel's recent acquisition, check out some of the resources and links below.
Want to learn more about what Marlin Steel can do for your business? Talk to one of our experts today and see how we can make customized wire forming products and stainless steel baskets tailored to your specific needs!