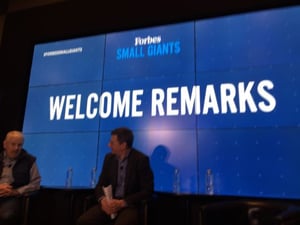 Marlin Steel is proud to be mentioned on Forbes' list of the best small businesses of 2018! The "Small Giants" list celebrates innovative and impactful small businesses from the food & beverage, manufacturing, retail, and services industries—providing role models for other small businesses to follow.
Why "Small Giants" Matter
When most average Americans think of the businesses that create jobs, their first thought is to the biggest household names—companies like Boeing, General Electric, Wal-Mart, and the like. However, the biggest job creators aren't the corporate giants — they're the small businesses. According to data from the U.S. Small Business Administration, "two out of three net new jobs in the U.S. are created by small businesses."
As small to midsize businesses (SMBs) continue to grow and add jobs across the country, they help to bring American workers into the middle class and stimulate the economy—especially when those small businesses are in the manufacturing sector.
Manufacturing jobs pay, on average, "13 percent more in hourly compensation (wages and benefits) than comparable workers earn in the rest of the private sector," according to data cited in a Bloomberg article. The "benefits" mentioned in this statistic include things like health insurance and retirement benefits, which help to secure a more stable retirement for manufacturing employees.
While the "Small Giants" being honored in the Forbes list might not, individually, be very large, the collective impact of their efforts on the American economy cannot be overstated. It's these small business that supply the majority of job growth in America, and these businesses that foster the innovations that might go unnoticed by the corporate giants of the world.
How Marlin Made the List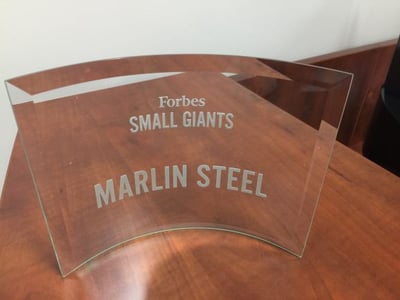 Forbes picked Marlin Steel to appear on the list for a few specific reasons—including Marlin's:
When Marlin's core business as the "King of the Bagel Baskets" was torpedoed by a combination of the anti-carb Atkins diet and a sudden influx of Chinese bagel baskets that were being sold for less than the cost of the steel needed to make them, the company was nearly destroyed. Seemingly overnight, Marlin had lost nearly all of its customers, and was faced with the choice to change, or close its doors forever.
It was at this point that a fateful call came in. An engineer from Boeing, looking to find a custom metal basket manufacturer who could fill an order with tight parts tolerances found Marlin's number in his Rolodex and decided to give the company a try. For this client, cost was not an issue—quality was everything.
Though it took some trial and error to get the baskets just right for this new type of client, Marlin's CEO realized that here was a whole new industry that could be tapped—one where cheap commodity baskets flooding the market wouldn't be an issue because they had to meet strict quality and performance standards. On that day, Marlin Steel was reborn.
The company would double down on delivering "Quality, Engineered Quick®" to an exclusive client list of manufacturing companies that needed high-grade custom basket solutions. To this end, Marlin Steel created a new continuous education program and started investing in advanced manufacturing automation tools. Employees started switching from performing back-breaking manual labor and started focusing on learning how to program and maintain robots that would take care of the hard labor.
Today, Marlin has more than 30 workers, fully 20% of whom possess degrees in mechanical engineering.
Want to learn more about Marlin Steel, or need a custom steel wire basket for your own manufacturing application? Then contact Marlin Steel today!