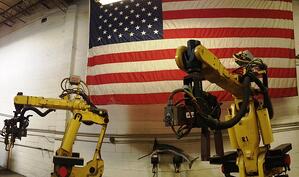 Marlin Steel has grown significantly from the time it was first acquired by its current CEO, Drew Greenblatt. One factor contributing to this growth has been the way that Marlin Steel's leadership has invested in technology and people over the years.
Recently, Wall Street Journal (WSJ) wrote an article about factory automation and how companies such as Marlin are, "Training workers in programming and robotics, letting machinists get a taste of coding."
Why did Marlin Steel invest in factory automation? Here are a few insights from the WSJ article:
Meeting Higher Quality Standards for Metal Forms
One of the key reasons Marlin Steel invested in factory automation and robotics is because of how close the company came to closing its doors. In the 90s, Marlin was known as the "King of the Bagel Baskets." However, shortly after Drew Greenblatt acquired the company, the Atkins Diet became popular, and the carb-rich bagel industry tanked. Then, Chinese companies flooded American markets with ultra-cheap bagel baskets that sold for less than the cost of the steel needed to make them.
Marlin Steel quickly found itself hemorrhaging money with no clients. Then, a call came from a Boeing engineer who needed a set of precision-engineered baskets that could consistently meet incredibly high quality standards. This was the eureka moment for Marlin's leadership—by switching to making precision-engineered baskets, Marlin could access a whole new set of clients.
Serving this new client list required a paradigm shift by Marlin Steel—which is why Marlin decided to invest in factory automation.
Unlike people, manufacturing robots don't get tired, bored, or repetitive motion stress injuries from bending metal for hours on end. This allows the robots to shape steel parts consistently without error.
Turning Manufacturers into Coders to Fuel the Future of Manufacturing
The use of robotic assembly tools has changed the way Marlin's employees do things. As noted in the WSJ article:
"The company's machinists develop code so robots can make parts to specifications… Other employees use collaborative software to interact with customers on real-time design changes, helping the company manufacture higher-quality steel products, charge more for them and create unique intellectual property."
Because the dangerous labor is being handled by machines, Marlin's employees can focus on other tasks—such as programming equipment, optimizing assembly processes, or maintaining the robots. This work is more cerebral and much less likely to result in injury than spot-welding, bending, or cutting steel wires by hand.
This has changed life for Marlin's manufacturing team. In the days before the company was acquired by Greenblatt, it wasn't unusual for Marlin's employees to be missing fingers or eyes as a result of manufacturing mishaps. Now, the adoption of factory automation has banished the Dickensian nightmare of manual labor injuries—making the Marlin manufacturing team safer, healthier, and more productive than ever before.
What Have the Results Been for Marlin Steel?
Because of Marlin's adoption of factory automation, the company is now able to take on jobs that it would never have considered in the past. This has helped the company grow its revenue and its manufacturing team. As noted in the WSJ article, "Marlin Steel is on track to generate $8 million in revenue this year, up from about $5 million the previous year."
By focusing on employee development and providing strong incentives to learn new skills, Marlin has closed the skills gap that plagues the manufacturing industry—creating a strong team of dedicated manufacturing experts who have the resources and the know-how to tackle major engineering challenges.
Curious about how Marlin Steel makes the best custom wire solutions for your manufacturing challenges? Reach out to the team today!