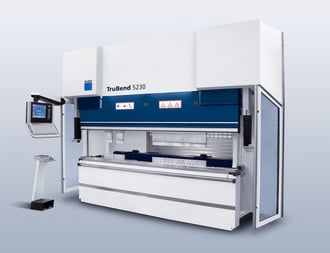 With the right factory automation tools, manufacturers can create a safer factory environment for employees, as well as maintain efficient operations unmatched by human labor alone. To get the tightest parts tolerances and most precise bends for metal baskets and wire forms, Marlin Steel employees factory automation software and machines.
One of these sophisticated tools used on the factory floor and responsible for the high-quality precision of Marlin's steel baskets is the Trumpf TruBend 5230 press brake machine.
What Is A Press Brake?
When manufacturers need precise metal bending, they turn to the press brake machine. A machine pressing tool for bending plate and sheet material, a press brake is most commonly employed for prearranged bends by clamping the metal between a die and a matching punch.
There are several different types of press brake machines on the market: pneumatic, hydraulic, mechanical, and servo-electric. These different types are determined by the amount of force application each serves. While hydraulic presses can achieve high amounts of force, servo-electric and pneumatic press brakes deliver a smaller amount. However, the servo-electric press brake generally delivers the highest amount of accuracy.
When outfitted with the right die design, press brakes can achieve many different metal bending and forming jobs. There are numerous die models on the market, ranging from V-dies - the most common type of bending die - to offset dies, which can produce a Z shape.
To achieve the highest degree of accuracy while maintaining productivity, Marlin Steel employs the Trumpf TruBend 5230 press brake. Versatile and energy-efficient, this bending machine offers unparalleled flexibility and precision for bending a variety of parts so Marlin's engineering team can provide clients with the wire bending forms they need.
What Is The Role Of The TruBend 5230 Press Brake In Manufacturing?
The TruBend 5230 allows Marlin Steel to achieve superior precision when designing and manufacturing metal forms, all the while maintaining efficiency. As an ergonomic solution, the TruBend press brake allows for unparalleled manufacturing at quick speeds in just a relatively short period.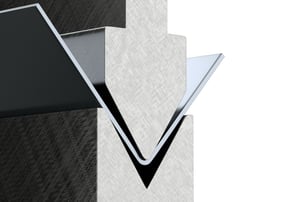 Press brakes can bend both simple and complex parts of varying thickness, which is important for many reasons. Bended sheet metal is needed from industries ranging from aerospace to automotive and different projects require their own unique specifications and requirements.
The modern press brake machine has allowed manufacturers to produce more bends in sheet metal faster - and more precise - than ever before. This increased efficiency allows for American manufacturers to compete with the overseas competition and produce bends with fewer downtime. Many press brake machines, like the TruBend 5230, are now automated so they can run indefinitely until an operator must change the tools through touch-screen pads.
How Does The TruBend 5230 Press Brake Help Manufacturers?
The innovative TruBend 5230 press brake machine can help manufacturers in the same ways as it transforms the Marlin Steel factory floor. Some benefits that make this unique press brake stand out include:
Bends Difficult Parts With Ease
The TruBend 5230 is a large press brake capable of bending parts that are over 127'' in length. Due to its six-axis back gauges, the TruBend 5230 can easily handle very complex bends at angles too difficult for other press brake machines. It can also bend thick sheet metal due to its 253-ton application power - the equivalent of 125 cars being forced down on the steel!
Automated Features
Trumpf's TruBend machine comes full of helpful automated features that help you bend metal with specific positioning. With the optical tool setup aid, you can see the position the bending tool needs to be installed.
The machine uses red LED lights to indicate where to install the bending tools with millimeter-scale precision. It also indicates the station where the next bending option will take place.
Some other automated features include the upper drive and hydraulic system. The TruBend beam is controlled by a self-ventilating hydraulic system with an internal gear pump that links with precision sensors to cushion the springback of the machine body. This ensures that the beam is in the correct positioning during press brake bending.
Unmatched Precision
Due to innovative factory automation tools and intelligent software, the TruBend press brake can deliver the most precise bends for all your sheet metal requirements, whether for thick or thin bending material. Not only does the press brake bend both complex thick or thin parts at high angular accuracy, but it does so with minimal noise and at a fast pace of 8.5 in/s.
The TruBend press brake is one reason why Marlin Steel can produce such high-quality stainless steel metal forms within such a short amount of time. Learn more about how Marlin's factory automation can get you a custom metal form with Quality Engineered Quick®.