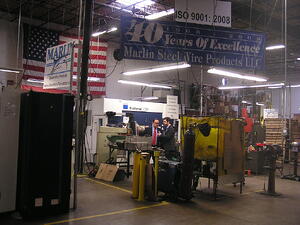 Marlin Steel is proud to be a leader in the field of American manufacturing. As a company, Marlin invests heavily in not only top-of-the-line automation for manufacturing custom steel products, but in employee training and safety to cultivate top-tier workers who can make the most out of the tools they have.
Marlin's training programs and use of automation have garnered recognition before from manufacturing organizations such as the National Association of Manufacturers. These initiatives have even given Marlin the edge needed to export custom metal forms to countries such as China despite stiff local competition.
However, Marlin was given a new and unique opportunity to share a sneak peek at its production process with the Japanese public, thanks to Japanese broadcasting station NHK (Japanese equivalent to PBS).
What is NHK?
NHK, or Nippon Hōsō Kyōkai (which translates into Japan Broadcasting Corporation), is Japan's public broadcasting organization, similar to PBS here in America. The broadcaster publishes a variety of written stories and videos featuring events in Japan, Asia, the world, business/technology industries, and nuclear & energy news as subjects.
Recently, the Japanese broadcaster sent a team to Baltimore, Maryland to tour American shopping centers and get a behind-the-scenes look at how some products are made in America. The camera crew spent a few hours taking videos of Marlin's team hard at work welding custom wire forms, and even got some footage of one of Marlin's wire-bending robots in action.
In their video, the NHK reporting team started with an interview of American shoppers doing their holiday gift-buying, and followed it up with a look at the Marlin Steel factory floor, and finished with an interview of an office worker that took a look at how American workers are compensated for their work.
You can watch the video for yourself here:
Why Marlin Steel?
So, why would NHK International's news team want to take a tour of Marlin's factory floor instead of a manufacturing facility that directly produces consumer goods? There could be a number of reasons for this.
One, while Marlin Steel doesn't typically produce consumer goods, the custom steel wire baskets that Marlin makes for other manufacturers are often integral to their production processes. Marlin Steel's parts cleaning baskets are used in everything from the aerospace industry to the manufacture of parts for children's toys.
These custom-designed containers help other manufacturers streamline their own parts finishing processes and meet tight production tolerances.
Two, Marlin Steel is an award-winning production facility with top-notch practices. Recently, Marlin earned OSHA's SHARP designation, a distinction that only five companies in the state of Maryland have earned. Other awards earned by Marlin include:
Lockheed Martin's Global Supplier Performance Excellence Award
Smart CEO 2014 – Technology Implementer
Prestigious Inc. 5000 for 2013
ICIC Inner City 100 for 2013
Precision Metalforming Association – Metalforming Pioneer Award
Third, Marlin Steel is a company in the process of rapid growth, and not just because of the holiday season. As Drew Greenblatt, Marlin's CEO, tells NHK's reporter in his interview for the video, "We've expanded our factory floor space 53%. We're going to be hiring 15 new people over the next year or so to fill up the space."
Part of the focus of the video was on the Fed's rate hike, and how it affected businesses in America, and seeing how Marlin plans to grow in the face of the rate increase was important to the video's subject.
Ultimately, Marlin was honored to have the chance to share its business and manufacturing practices the Japanese viewing public. Everyone here at the company would like to thank NHK International for taking the time to interview Marlin's CEO and share Marlin's story with the world.