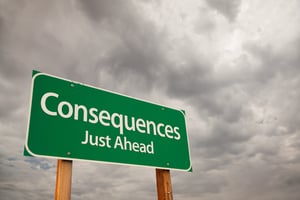 Marlin Steel's production team has crafted countless different custom basket designs for hundreds of different companies over the years. Many of these clients came to Marlin Steel to get the right basket for the job the first time… but many clients come to Marlin to replace the baskets they ordered from other manufacturers.
Why would these clients come to Marlin to replace custom wire baskets they just got from elsewhere? Most likely because they've discovered what can happen if their wire baskets aren't superior-quality.
Here are five examples of what can happen if your wire baskets are inferior-quality:
Inferiority Consequence #1: Broken Baskets
One of the most common side-effects of using an inferior basket is that the basket can experience a catastrophic failure during use. Weak welds or thin, corroded wires can break under the stress of a full parts load during your manufacturing process, creating a slew of other problems.
Inferiority Consequence #2: Damage to Manufacturing Equipment
One of the problems caused by broken baskets includes the risk of damage to your company's manufacturing equipment. Not only do the now-deformed wires pose a risk of scratching or getting caught in your equipment, the break can allow the parts being processed to spill out.
Free-floating objects set loose by a broken basket bear an increased risk of causing damage to production line equipment.
Inferiority Consequence #3: Increased Risk of Harm to Workers
What happens when a wire basket loaded with heavy parts breaks while being handled by one of your workers? There is a risk that parts could fall out and injure the worker, resulting in lost productivity, workman's comp claims, potential OSHA investigations, and worse.
Or, a jagged edge from a broken wire could cause a minor injury/infection. In any case, the risk of harm to a worker from a poorly-made basket is unacceptable for most manufacturers.
Inferiority Consequence #4: Damage to Processed Parts
A lot of bad basket designs aren't bad because they break under stress—they're bad because they damage the parts they were supposed to protect. This kind of defeats the purpose of having a protective wire basket for parts in the first place.
Hard basket surfaces might scratch parts, or parts may become scratched by part-to-part contact. This is often a simple issue to fix by using either softer material coatings or dividers to keep parts separated.
Inferiority Consequence #5: Frequent Reworking of Parts
Bad basket designs can have a significant impact on the total time it takes for your manufacturing process to complete a load of parts.
For example, ultrasonic parts cleaning baskets with too little open space can interfere with the ultrasound waves that are used to clean parts. This means having to subject parts to extra wash cycles, delaying completion.
Worse, when parts get scratched, they may need refinishing, resulting in further delays and wasted materials.
Getting a superior-quality basket that exceeds the minimum tolerances needed for your parts finishing process can actually end up saving your company time, money, and material in the long run. Find a custom wire manufacturer who can engineer you a superior-quality wire basket today!