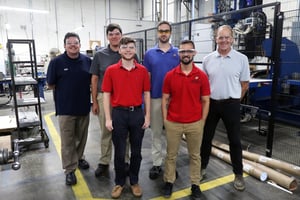 One of the most commonly-asked questions about Marlin Steel (right behind "how do you make a custom wire basket?") is: "What do you guys do all day?"
To help answer this question and give you a bit of a "behind the scenes" look at Marlin Steel, here's a description of a typical day for one of Marlin's mechanical engineers:
Part I: The Mechanical Engineer Starts Their Shift
The Marlin Steel engineer begins their day by taking a look at the latest client requests for custom wire forms. The engineer studies these requests to better understand the form, fit, and function of the client's particular engineering problem.
During this process, the mechanical engineer will reach out to the client to probe and ask questions about the client's application and how it would be possible to:
Improve throughput;
Reduce scrap production;
Enhance flow of materials; and/or
Increase safety.
By reaching out and asking questions, Marlin Steel's engineers can build better custom wire forms—helping clients realize their production goals.
Even after collecting information from the client, the mechanical engineer will take the time to study the client's process and application, coming up with alternatives to suggested solutions to see if there is a better way to do things. Part of this process will involve taking a look at similar custom wire basket design requests and studying what has worked well before. Marlin maintains a library of over 2,500 custom basket design jobs.
While this can take a bit of time, it ultimately results in a better custom wire basket design.
Part II: Lunch Break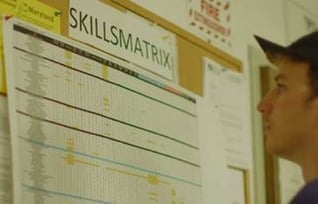 At this point, it's usually time for the engineer to take a lunch break. In Marlin's common room, employees can take a bite to eat, chat up coworkers for advice about their latest design project, and check out the job skills matrix.
The skills matrix is a big board that Marlin Steel maintains to showcase who has what skills—and to encourage Marlin's mechanical engineers to outperform their peers. For every new skill a Marlin employee learns, they get a permanent pay increase.
Part III: Creating Detailed Prints
After getting a bite to eat, it's back to work for the mechanical engineer. Here, they'll start one of the most complicated and involved parts of the custom wire basket design process: creating detailed prints of the custom basket design.
This involves many smaller steps based on the research the engineer will have completed that morning, including:
Creating top, bottom, side, and isometric views of the custom basket (both with and without parts loaded);
Calling out tolerances for the basket;
Calling out specific weld types to use for each weld joint;
Developing tooling to hold the part;
Developing fixturing;
Demonstrating that delicate parts won't be scratched—preventing metal-to-metal contact—by highlighting where the basket will grip or won't touch parts;
Demonstrating stacking capabilities (if so designed);
Demonstrating nesting capabilities (if so designed);
Demonstrating how lids will seal (if lids are present);
Demonstrating how hoists/conveyors can move the basket (if so designed);
Calling out ID tags for the client so they know which parts go in specific basket types;
Developing a kiting system for the client so they have the right number of each SKU at the end of their production lines (and have no stockouts);
Assessing the appropriate materials to use for the client's manufacturing environment and processes;
Assessing the best finish to use to prevent marring of client parts (Teflon®, nylon, PVC, etc.); and
Creating a finite element analysis (FEA) routine to confirm that the basket, as specified in these prints, will be able to withstand the stresses of the client's manufacturing processes and environment without being compromised.
Once the basket has been put through the FEA physics simulation, it is given a pass or a fail. If the basket would be damaged or corroded by the client's manufacturing process and/or environment, the design is failed, and the engineer has to make tweaks. This test and redesign process is repeated until a viable basket design is completed.
This particular phase of the custom wire basket design process tends to be the most time-consuming for Marlin's mechanical engineers because of the extensive research, testing, and iteration involved.
Part IV: Creating a Bill of Materials
Once a part print is reviewed and approved by other engineers, the designing engineer will create a bill of materials so the correct type of steel wire can be purchased for the project. Marlin will then source the stainless steel wire needed from one of the company's American steel suppliers—Marlin doesn't use cheap foreign-made steel just to save a buck.
Part V: Inspection of Projects in Progress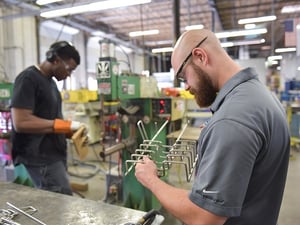 After submitting a bill of materials for their latest custom wire basket design, the mechanical engineer will take some time to review and inspect products that are currently moving through the Marlin Steel factory floor. Here, they'll confirm whether tolerances for individual baskets are conforming to the standards set forth in the design print.
They'll also follow detailed ISO quality procedures for first article inspections, in process inspections, and final inspections of raw materials, work in process, and finished goods. A double-check is performed for any finished basket that has a coating to ensure that the coating is of a suitable quality.
Part VI: Meeting with the Production Team
Towards the end of the day, the mechanical engineers will meet with the production team to discuss current and future projects. The goal for many of these meetings is to identify ways to increase safety and productivity for any given project. They'll also collaborate on ways to improve time-to-shipment so Marlin's clients can put their baskets to use sooner.
This collaborative meeting between engineering and production usually serves as the capstone to a typical day at Marlin Steel. After this, everyone goes home to enjoy time with their friends and family—then get ready for the next day.
Curious about Marlin Steel? Reach out to the Marlin team to learn more!