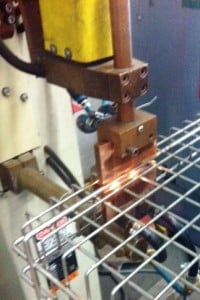 Recently, we proudly announced the arrival of a new IDEAL welding systems welder to the Marlin Steel production facility. In that announcement, we briefly discussed a few of the benefits that this machine will bring to our company's manufacturing capabilities.
Today, we'll be taking a closer look at the advantages that the welding speed of this new automated welder provides, but first…
How Fast is it?
The Versaweld CSR102-1230-3-MFDC NC Jig Welding System from IDEAL Welding Systems can complete a weld in two milliseconds. That's 2/1,000 of a second. That is literally many times faster than a human eye blink (which takes 100-400 milliseconds). That's right, in the time it takes you to blink, this welding system could, in theory, complete up to 50 weld operations.
Most other automated welding machines take 60/1,000 of a second to complete a weld.
What are the Benefits of This Speed?
Faster welds, in and of themselves, mean that this machine can complete more welds than a traditional welding machine. In the time it would take a standard automated welder to complete 2 welds, our new IDEAL welder could finish 60 welds. This means that this welder could significantly increase our production capacity.
However, the ability to complete more welds in less time is only the beginning of the advantages offered by the two millisecond weld speed of our new automated welder.
By finishing weld operations so quickly, the Versaweld CSR102 uses less flash, which translates into less blistering. Typically, joining two pieces of metal with a welder takes time, heating the metal and causing discoloration or bubbling. Because our new welder from IDEAL can make welds so quickly, the metal being joined doesn't get as overheated and doesn't form as many blisters.
Fast weld speeds also prevent other deformities in the weld, such as sharps or upsets that can deform a delicate wire form's shape ever so slightly. Even worse, with a slower weld speed, parts can begin bowing (curving like a potato chip) instead of remaining flat. The more intersections that need to be welded together, the more chances there are for a severe deformity in the wire form to occur.
Typically, such deformities place extra strain on the wire form, causing it to become more prone to failure. By eliminating the possibility of such stresses on the frame of the final product, 2 millisecond welds allow the wire form to last for longer without failing.
In short, faster welds help to ensure the best weld quality possible in metal forms.
With the addition of the IDEAL welder, we can deliver quality engineered quick better than ever before. Contact us to learn more.