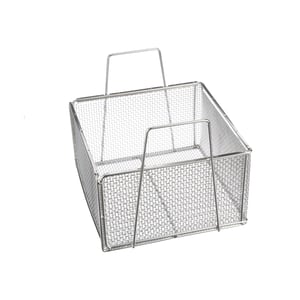 Many manufacturing companies have numerous product lines that they put through similar processes. However, many of these products have different shapes and sizes that make it difficult or impossible to use the same basket to hold all of them. Additionally, using one generic basket to hold multiple parts in a single space with no dividers can lead to scratches that ruin the surface condition of those parts.
This is why many companies use a different custom basket for each of their product lines. While this is great for ensuring that each basket is perfect for the parts that they hold, it tends to take up a lot of space on the factory floor.
Thankfully, there is a way to create a custom wire basket solution that can accommodate a wide variety of parts while minimizing the floor space the baskets consume and making sure parts can be held in specific orientations if needed for automation—using custom basket inserts to create a modular parts handling and storage system.
How Custom Inserts Save Space
You may be wondering: "If the custom inserts aren't always in use, aren't they going to take up floor space as well?" While the interchangeable custom inserts used in a modular basket system will need some storage space, it will be a lot less than an entire basket. Depending on the size and shape of the inserts, you could easily store two or three times as many inserts as you could baskets in the same space.
Using a shelf to organize the inserts can make them easy to retrieve and store in between uses without taking up too much floor space.
Making a Modular Basket Solution
When creating a modular basket for use with a specific set of equipment, the basket's designers first need to know:
What kind of equipment the basket will be used with (size of openings & tanks, method of movement within the machine, etc.).
How the baskets will be handled in between processes.
Size of the largest and smallest parts that will be held.
What stresses the basket will be exposed to (temperatures, impacts, and chemicals).
Using this information, the designers can create a large outer basket that can meet all of the specific demands of the process. Then, once this outer basket design has been tested and finalized, the designing of the inserts can begin.
The nature of these custom inserts for the modular basket system can vary greatly depending on the needs of the process.
For example, some custom inserts are basically just smaller baskets used to keep individual parts of a single type together during a parts finishing cycle. In some cases, two, three, or even four of these "sub-baskets" can be made to fit in the larger basket so that several different parts lines can be processed at once. The advantage of this is that it allows some flexibility in batching parts for processing—you could have all one kind of part, two different kinds of parts, etc.—so that you don't have to hold up the finishing process to wait for a specific part type to finish. This helps speed up overall processing and reduces idle time for the machinery.
Other custom inserts include shaped wire trays that conform to the contours of a specific set of parts. The advantage of these inserts is that they excel at holding specific parts in place. This makes it easier to combine the basket with automated parts loading/unloading equipment since each part will be held in a specific way. Also, this can help prevent parts from getting damaged during the finishing process since they won't be getting tossed around nearly as much.
Dividers are another popular option for a removable insert that can keep parts separated so they won't bounce into each other and get damaged during processing. The big benefit here is that dividers often take up very little space when stored separately from their baskets and can be designed to make it easy to insert individual rows of dividers for enhanced customizability.
Do you need a flexible custom basket solution that can be used with many different parts? Consider using a modular manufacturing basket to meet your needs today!
Marlin Steel specializes in making custom wire baskets to suit a variety of needs. Also, as a U.S.-based company, we can make and deliver modular basket systems to North American businesses very rapidly—often in as little as two weeks or less!