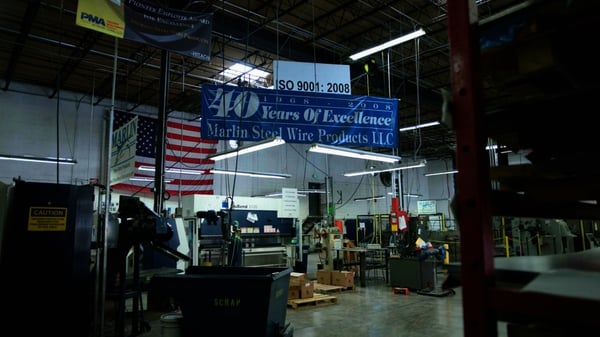 On paper, a plastic tote basket sounds like a great solution for your parts handling needs—they're cheap, easy to make, and the softer plastics are often gentle on delicate parts. However, plastic totes have more than their fair share of problems:

The plastic has a low tensile strength, so heavy parts rip through them.
Some high-intensity wash processes can warp or break plastic totes.
Plastic has a low melting point, so high-temperature processes are incompatible with plastic totes.
One of Marlin's recent clients was using such plastic totes for their material handling needs, and came across these very problems. Because of these issues, they had to add another step to their manufacturing process to take their parts out of the plastic totes and insert them into another set of baskets. However, these other baskets were cumbersome, requiring specialty inserts that had to be screwed into place for each of the eight different product types the client would have to process.
This meant extra time and labor would have to be consumed for each set of parts. This slowed down production while increasing labor costs as well as the risk of a part being mishandled in a way that could cause damage to it. To solve this problem, the company decided it needed an all-in-one basket—one that could be used for every step of the process from beginning to end to avoid the extra labor and risk of moving parts from one basket to another.
So, they reached out to Marlin Steel for a set of custom steel wire baskets that they could use for both their parts handling and parts finishing processes.
Creating Multiple Custom Baskets to Protect Parts
Two of the client's main issues were that they had multiple parts that they needed to process—each one requiring a different custom insert to securely hold it in place for final assembly and finishing—and that each of their parts were very delicate. The goal was to save time by having a single steel basket hold a part through the entire process while minimizing parts rejection rates from damaged parts.
To meet this goal, Marlin's engineers had to create a variety of custom baskets—each one shaped and optimized for a specific part. Each basket would hold six to eight parts (depending on the part's shape and size).
By custom-shaping the wires for each basket, the parts could be nestled securely to minimize the risk of parts falling out or moving around. By making the baskets out of grade 304 stainless steel, they could resist the various temperatures and chemicals the client would use to finish their parts with ease while being strong enough to take several times the weight of the heaviest load the client specified.
While the length and width of each basket would remain constant to fit the opening of the client's washing equipment, the height would change from one design to the next to accommodate the parts it would hold. Although this would help to identify the baskets somewhat, more obvious markings would be needed to ensure that there would be no mistakes in loading each basket.
To make baskets more readily identifiable, small laser-cut sheet metal tags would be added to indicate which part serial number each custom basket was customized for. This helped to prevent the accidental misloading of parts for basket A into baskets B, C, or D.
Once each design was finished, it was tested virtually using finite element analysis software to simulate the stresses the basket would be exposed to and verify that it could survive years of use without getting damaged. After the designs were virtually vetted, the baskets themselves were assembled using Marlin's inventory of advanced manufacturing automation tools to ensure that each basket could hold to micrometer-precise tolerances—preventing issues where a part might not sit neatly in the basket.
One benefit of this virtual testing and automation tech was that it helped Marlin to fulfill the client's order in a fraction of the time that more traditional manufacturing techniques would require. From the time the client put in the order for a set of custom baskets to the delivery of those baskets, only a few weeks had passed.
And, when the client got their new baskets, they were able to put the steel wire baskets to use right away—holding their parts through the entire washing and finishing process from start to finish. This helped the client save time and money on their manufacturing process by increasing throughput and minimizing parts rejections.
If your current parts handling baskets are causing your parts to get damaged or creating extra handling steps, consider making an upgrade to a custom wire basket now! Marlin Steel's degreed mechanical engineers are ready and willing to work with you to create the optimum steel wire basket for your needs, so contact us today.