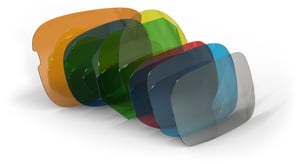 No two manufacturers will have exactly the same manufacturing needs. There are countless variables in the manufacturing process, such as:
Equipment
Temperatures
Duration
Number of steps
Chemicals used
Environmental factors (humidity, salinity of the air, etc.)
Even two manufacturing plants producing similar products using similar processes might have slightly different needs based on location alone.
This is why it's important to carefully consider all aspects of a manufacturing process when designing a custom parts cleaning basket. Simply copying an old design that worked for a different client without checking it against the new client's process could result in disastrous consequences.
So, when Marlin was contacted to create custom steel wire baskets for a lens manufacturer, it wasn't enough to just slap together an existing design—Marlin's design team gathered comprehensive information about the client's process, product, and manufacturing environment.
The end result was a custom Halar®-coated steel basket that would hold the client's glass lenses safely through their coating process.
Why Halar®?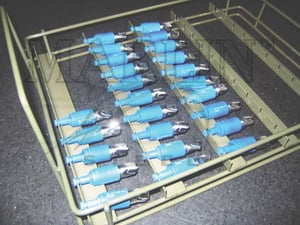 For those unfamiliar with the name, Halar® is the brand name of an ethylene and chlorotrifluoroethylene (ECTFE) copolymer sold by Belgian chemical company Solvay Solexis. Halar® is often considered a competitor to Chemours' ETFE Teflon®, and is often used in similar applications.
Key strengths of Halar® include:
Strong chemical resistance
Thick coating layer ranging between 5 and 60 mils (0.005" to 0.06")
Low porosity for superior protection in immersion applications
The major drawback to this polymer coating is its relatively low temperature resistance—Halar® will fail at temperatures in excess of 300 degrees Fahrenheit.
For this particular application and process, the client needed a material that would stand up to continuous, prolonged exposure to a variety of chemicals at room temperature. Because of the need to protect against a variety of chemicals and the lack of temperature extremes, Halar® was identified as the ideal coating material for this custom parts washing basket.
Additionally, the thicker polymer coating would provide some scratch protection for the lenses being processed by giving them a semisoft contact surface.
Designing the Basket
Once both the underlying material of the basket and its coating were finalized, Marlin's engineers set to the task of customizing the basket's design. The design for this basket had to be especially well thought-out because of how delicate glass lenses are.
For example, if the glass lenses moved too much, they could chip, crack, or scratch during the coating application process. If there wasn't sufficient drainage, chemicals would stick to the lenses and stain them.
To minimize production waste and reprocessing, the basket had to hold each lens securely, but still allow chemical runoff to drain freely. Here, using custom-shaped wires was a significant help.
The shaping of the wires would allow them to securely hold curved lenses, but the rounded, polymer-coated surfaces would prevent chemicals from settling on the basket. Large open space between individual wires helped improve air flow so that lenses would dry out quickly to minimize time spent on drying.
Once finished, the design was tested and re-optimized using physics simulation software. Only when the design was able to pass the test without failing did manufacturing begin. This practice saved considerable time, money, and effort on physical prototyping.
See how Marlin has helped other clients improve their manufacturing with custom parts washing baskets by checking out our case studies!