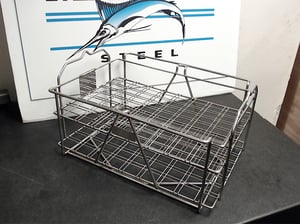 In the aerospace industry, the maintenance, repair, and overhaul (MRO) process is essential. It can be a time-consuming endeavor, though. Since most aerospace parts require flawless surface conditioning to operate, aerospace MRO must be meticulous and thorough.
There are many risks and dangers that can occur during jet engine transport, but, fortunately, you can take certain measures to expedite the MRO process so your company can better optimize its time.
The Danger of Improperly Transporting Jet Engine Parts
Protecting your jet engine parts during transport is critical, as improperly transported goods can lead to different issues:
Jet engine part damage
Loss of small parts
Safety risks/harm befalling engineers and handlers
Damage impacting a product's regulation compliance
Repairs and replacements that occur as a result of improperly transported products can also render the entire MRO process inefficient and costly. Every instance of potential damage or a loss in integrity can lead to the entire process having to start over, as no risks can be taken when it comes to jet engine maintenance for the sake and safety of engineers, pilots, and passengers.
Best Practices for Jet Engine Transport
Improving jet engine shaft handling and transport should be a priority whenever possible to streamline MRO efforts and protect the products during transport on the aerospace floor. There are a couple of best practices to follow in order to optimize your MRO process.
Avoiding Metal on Metal Contact
Metal on metal contact can lead to the cosmetic and practical damage of parts, components, and products. During jet engine transport, products may rub against the basket or cart they are being carried in, leading to a tarnished finish or surface scratches. These small defects and inconsistencies can ultimately disrupt the integrity of the product, as jet engine parts must be in great condition for safety reasons.
Aerospace companies should avoid having metals sit or rub against each other during maintenance, repair, and overhaul processes to prevent scratching and damage. This can be done via different finishes and coatings applied to either the basket or cart or by using perimeter protection, similar to Marlin Steel's jet engine shaft carts.
Shaft carts are particularly good at reducing metal on metal contact with Delrin saddles and truck bedliners enforcing a self-contained design. High sidewalls can also reduce side strike damage during transport, increasing the safety of important jet engine parts.
Boosting Employee Efficiency on the Aerospace Floor
Enabling your employees to work more productively and efficiently will also improve the overall MRO process. Using custom products, like the aforementioned carts, can improve storage and worker efficiency, as well as transport through the aviation hangar.
Jet engine shaft handling and transport is made easier with stackable storage products that have windows, boosting organization efforts and reducing the storage footprint of the aerospace floor. Heavy parts can be easily carried without having to use tools like forklifts, as custom products, like pushers, can be made to glide across the floor with minimal pull or push force and enable simple operator movement with high-quality casters. This keeps all operations under OSHA compliance, and support corporate safety goals.
Using Custom Products for Jet Engine Transport
Custom products, like Marlin Steel's patented circular floats (U.S. Patent Number 10,286,943) and stainless steel carts, are great resources for those managing jet engine transport. They prevent parts from falling out during wash or moving across the aviation hangar.
Blade and vane baskets that are custom designed for your engine's parts can also increase efficiency on the aerospace floor since parts can travel together, reducing the time needed to look for individual pieces. They are designed for multiple uses, including cleaning, NDT dipping, and drying. They also support AS9100 compliance for lot control and traceability.
There's also a considerable decrease in the need for product reworks when there's less risk of scratching. With the use of neoprene liners and other protective coatings, custom aerospace carts can be coated to provide a safe cushion for engine parts that effectively prevent engines from being damaged during movement.
Custom products that can also be designed with features like an expanded metal base, allowing potentially damaging debris, metal shavings, and fasteners to exit before they abrade delicate engine parts.
Along with better employee and part safety, there's more ease in transportation, increasing overall MRO efficiency.
How Marlin Steel Improves Jet Engine MRO
Marlin Steel's products are custom made to accommodate your jet engine, with straps to keep them secure. You can join Marlin's patented circular floats (U.S. Patent Number 10,286,943) together for large products and use them to remove debris from the aerospace floor. Large, expensive, and delicate parts alike all need a custom and proven solution for improved MRO.
Contact an experienced Marlin Steel engineer today to learn more about our custom aerospace solutions.