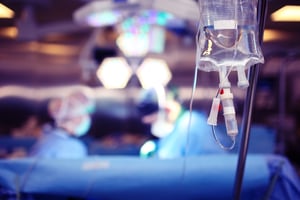 Due to the sensitive nature of the medical and pharmaceutical industry, equipment used in labs and hospitals must be up to par for top performance. To monitor equipment safety and efficacy, there are basic safety and essential performance measures that medical equipment must adhere to.
These requirements are especially necessary for IV poles, which are essential, life-saving equipment that healthcare workers must rely upon to efficiently deliver consistent results during daily operations. Marlin Steel's team of engineers have crafted medical IV poles to provide the maximum support possible for hospitals while also adhering to IV pole requirements.
What Are IV Pole Tilting Devices?
To ensure hospital IV poles are performing as optimally as possible, requirements are instituted such as those which help with balance and tilting.
The IEC 60601-1, a series of technical standards to ensure the safety and performance of medical electrical equipment, has general requirements for the basic safety and essential performance for tilt and threshold of devices like IV poles. Sections 9.4.2.4.3, 11.6.2, and 11.6.3 refer to issues with the instability of devices and prevention of any imbalances which may compromise the integrity of the equipment and put the patient at risk.
Threshold
The threshold value of a medical device is determined by how much intensity must be produced to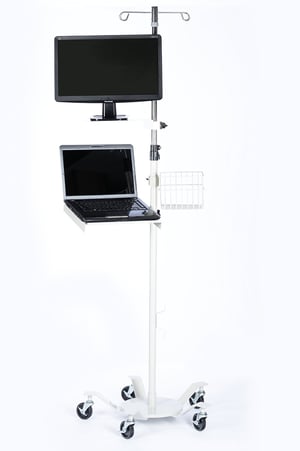 have a given effect or result and its stability in uneven surfaces. This can be witnessed by IV poles due to their motility. If healthcare workers are pulling an IV pole outfitted with fluid bags into an elevator to transport it to a patient on another hospital floor, then the concern is the stability of the IV pole's movement. It may not roll smoothly from the floor over the dip to the elevator entrance and could potentially knock over or spill the fluid bags.
The ability to move IV poles over a high threshold, such as this elevator entrance, without complications is the advantage of medical devices with a high threshold value.
Tilt
Additionally, medical devices need to be secure while transported, even with intravenous poles laden with multiple fluid bags. Hospital IV poles must be transported all over hospitals - this means going down ramps, up-sloping hospital hallways, and other uneven surfaces. Medical IV poles without the right balance can tilt over while being quickly transported to other operations, potentially dropping their fluid bags or knocking into other people and equipment. Tilt tests can determine how IV poles will react when put on uneven planes.
How Marlin Steel IV Poles Adhere to the Most Rigorous IV Tilt Requirements
Marlin Steel's team has designed and manufactured IV poles that are not only made of the strongest materials that can withstand the harsh environments of medical applications and durable, high-quality materials, but that also adhere to tilt and threshold requirements.
Durability
In the medical environment, healthcare workers must work with devices that they can rely on to repeatedly deliver consistent results. Marlin's IV poles are chrome-plated or white powder coated and composed of a thick, heavy-duty tubing to remain in prime condition despite the intense environment of hospital settings. For added versatility, IV pole baskets are manufactured with stainless steel which is only tough but also corrosive-resistant for a long-lasting lifespan.
Easy Transportation Over Thresholds
Marlin Steel's IV poles maintain threshold requirements by featuring a heavy-duty sheet metal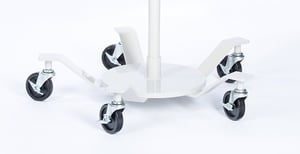 base with high-quality castors for easy and steady transportation throughout hospital floors. Not only does this allow IV poles to be wheeled to where they're needed most as quickly as possible, but they can be consistently stable and reliable when going over dips or changes in floor planes.
Each IV pole's heavy-duty base has been robotically welded for added precision and enhanced stability, so it can be released to not tip over and potentially damage itself or other equipment.
Unbeatable Tilt Test Results
Maintaining stability over uneven surfaces is key for IV poles. Tilt tests can determine how well devices, such as IV poles, can balance at different angles. Marlin's IV pole can hold four fluid bags at the same time - at a 10-degree tilt test. This is near impossible for overseas competitors and exemplifies the superiority of Marlin IV poles.
Choose Marlin Steel For The Most Reliable Medical IV Poles On The Market
With Marlin's medical products, you know you're only receiving the highest quality medical equipment. Clinics and hospitals need to be reassured that IV poles will deliver consistent results at all times - whether in the operating room or in the uneven slopes of hallways. When IV poles are cheaply made, there's a greater chance they'll have less stability and tilt ability, potentially damaging delicate and invaluable equipment parts and not adhering to the requirements demanded of them.
So, are you ready for Marlin Steel IV poles in your hospital? If so, or if you have any questions about Marlin's medical and pharmaceutical products? Contact Marlin Steel today!