In the medical world, equipment needs to be reliable and durable enough to meet the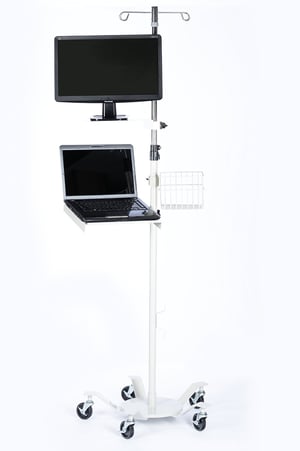 demanding needs of hospitals and clinics. Life-saving equipment, such as IV poles, are essential assets in hospitals that healthcare workers must rely upon to efficiently deliver consistent results during daily operations.
Not every IV pole is made the same, however. Hospital IV poles that are designed for maximum support and reliability can be trusted to aid healthcare workers as they care for their patients, instead of ever being a hindrance. See how Marlin Steel's IV poles stand out for delivering maximum support and reliability so they can be available for a variety of health care uses.
What Are IV Poles?
A staple of hospital operations, intravenous poles - also known as IV poles - are devices that keep intravenous bags full of medicine or fluid in place. The bags are hung from the hooks at the top of the pole. They are then connected by a tube into a patient's veins to deliver the vital fluids securely and efficiently.
Some IV poles are outfitted with a rolling base so they can be easily transported throughout hospital operations for easy accessibility.
How Important Are Reliable IV Poles?
Ask most people to conjure up images of a hospital room and they'll likely picture IV poles. They are a common sight in any healthcare facility. Due to their repeated usage, IV poles need to be built of durable materials so they can be relied on to keep up with the demanding applications of hospitals. Healthcare professionals rely on IV poles to be able to be easily transported to where they're needed most - from patient to patient to provide essential care.
When choosing hospital IV poles, you want to make sure they're made of the strongest materials that can withstand repeated use and the harsh environments of medical applications. Intravenous poles are supposed to complement and support healthcare professionals during their operations, not hinder. To prevent this, choosing the highest quality IV poles is crucial.
Why You Should Choose Marlin Steel IV Poles
With Marlin Steel's IV poles, your hospital staff can rest easy knowing they have the highest quality medical equipment available. Besides IV poles themselves, Marlin Steel also manufactures additional IV pole accessories to hold laptops, monitors, and medical equipment that can be purchased together or separately.
Additional Features for Operational Efficiency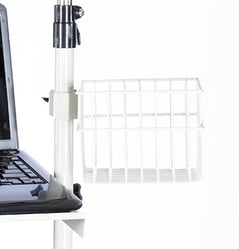 Marlin Steel offers additional features designed to facilitate efficiency and support for healthcare workers throughout their operations. These features are designed to securely attached to the IV pole for easier access.
IV Pole Baskets
These stainless steel baskets are custom-designed to attach to IV poles and securely hold essential items, such as notebooks, files, and other equipment to help facilitate operations.
Laptop Stand
Marlin Steel's custom laptop stand is designed for healthcare workers to quickly take patient notes from their bedsides, eliminating extra trips back to nurse station stands.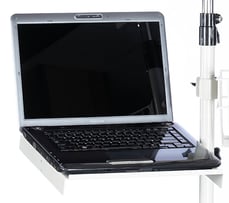 Monitor Stand
With this custom stand, even heavy medical monitors can be held securely to the Marlin Steel IV pole.
Durability That Can be Trusted
Marlin Steel's IV poles are chrome-plated or white powder coated. Composed of a thick, heavy-duty tubing, this versatile IV pole has been designed for repeated use in demanding hospital environments.
Additionally, IV pole baskets are manufactured with stainless steel, a material that is not only tough but also corrosive-resistant to ensure a long-lasting lifespan.
Easy Transportation
Marlin Steel's IV poles feature a heavy-duty sheet metal base with high-quality castors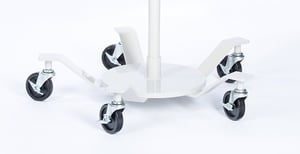 for easy transportation between operations. This allows healthcare workers to quickly wheel IV poles to where they're needed most as quickly as possible.
Designed for enhanced stability and robotically welded for precision, this is an IV pole base that can be trusted to not tip over.
Made in the U.S.A by American Engineers
Purchasing products made in the U.S.A not only supports American manufacturing but also allows you to be confident you're receiving the highest quality medical equipment. Clinics and hospitals need to be reassured that IV poles will deliver consistent results. When products are cheaply made, there's a greater chance they stall operations or damage delicate and invaluable equipment parts.
We deliver Quality Engineered Quick™ so you can be confident you're receiving only the best from American-trained engineers for your healthcare workers.
Ready for Marlin Steel IV poles in your hospital, or have any questions about Marlin's medical and pharmaceutical products? Contact Marlin Steel today!