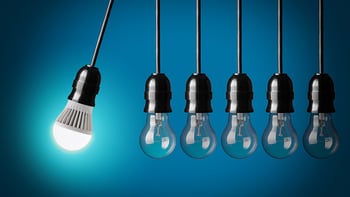 Innovation is the lifeblood of American manufacturing businesses—a fact that the design team at Marlin Steel takes to heart as they work to create new and useful wire basket, sheet metal, and other custom metal form designs for clients all around the globe.
Just recently, the Marlin Steel team was issued a patent for a wire basket assembly design filed in November of 2016. The patent cleared the U.S. Patent Office's verification process on October 17, 2017. The design, which was created by Marlin's own Wesley Chan, has been added to the library of patented innovations and products created by Marlin's hard-working engineers.
The Design of the Assembly
The wire basket assembly was designed to be inserted into a large, deep wire mesh basket to create a second layer for parts and materials to rest on. This effectively turned the larger basket into two smaller containers with a minimum of effort—useful for holding many smaller parts without having to pile them on top of one another.
The handles on the assembly would rest on the top frame of the basket, allowing it to nest without resistance. These handles also made it easy to remove the assembly if needed so users could quickly access the contents of the bottom of the basket.
Why These Innovations and Inventions Matter
This kind of specialized wire assembly design is something that Marlin's employees work on every single day. With every design, the Marlin team tries to create improvements that make things faster, safer, more durable, or more convenient in the production of top-quality parts.
It's the dedication, talent, and hard work of engineers like Wesley who make Marlin truly unique by creating patent-worthy innovations that set Marlin's products apart. By striving to do everything the best possible way, they do more than just fill orders—they create solutions to problems that clients might not even know they have!
The Marlin team is proud of Wesley's achievement, and looks forward to creating more unique innovations in the future!