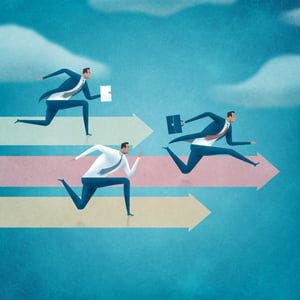 The National Association of Manufacturers (NAM) often holds special presentations and events to promote awareness of issues affecting American manufacturing companies.
In a recent Executive Insights Series on Manufacturing Leadership hosted in Cleveland, Ohio, Marlin Steel CEO Drew Greenblatt joined a panel with NAM CEO Jay Timmons, RPM International Inc. CEO Frank Sullivan, Saint-Gobain Corporation President & CEO Tom Kinisky, and Parker Hannifin CEO Tom Williams to discuss ways that American manufacturers can compete to win in a global economy.
Why Global Competition Matters to American Manufacturers
On a planet of 7 billion people, roughly 330 million live in the USA. This means that over 95% of American manufacturers' potential customers live outside the U.S. If American manufacturing companies want to grow and be more successful so they can hire more workers, they'll need to be able to export their products to other markets.
Now is the time for manufacturers to work with leaders in Washington D.C. to create the economic and regulatory reforms that will fuel future growth for the manufacturing sector.
However, American manufacturers are still fighting an uphill battle to grow. Not only are American manufacturing companies faced with overreaching regulatory burdens, but they also have to contend with foreign manufacturers that don't follow the same rules of competition. Penetrating foreign markets to sell American-made products is the key to growing profits for companies that export. That said, it's difficult to achieve market penetration when foreign manufacturers have one-sided trade, tax, and regulatory advantages.
Highlights from the Panel Discussion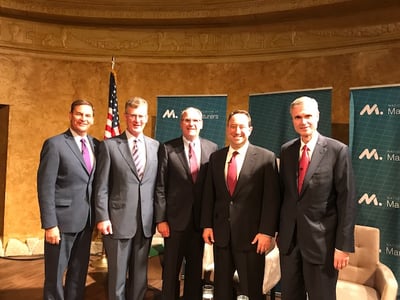 During the panel discussion, the members of the panel fielded numerous questions about their companies, the pro-manufacturing stance of political leaders in D.C., challenges and opportunities faced by American manufacturers, and the importance of having a skilled workforce in manufacturing.
Drew was specifically asked about his recent talks with President Donald Trump and Vice President Mike Pence, as well as recent NAM Manufacturers' Outlook surveys highlighting near-record optimism among manufacturers.
Why was optimism so high among American manufacturers? One reason may be that as a business owner, President Trump is more willing and eager to help manufacturers remove barriers to success and take a stronger stance on trade agreements with foreign powers.
In his talks with President Trump, Drew was given the opportunity to get the President's stance on American manufacturing and share with him a small manufacturer's insights into the regulatory burdens and trade hurdles that are holding American business owners back.
Panel discussions and events like it hosted by the NAM and similar organizations are a key part of raising awareness of the challenges faced by manufacturers and for sharing ways to overcome them.
Check out Marlin Steel's American Manufacturing Renaissance video!