Intravenous poles, commonly known as IV poles, are a common necessity in all hospitals. They provide patients with a continuous flow of medication and other other life-saving fluids.
Rolling IV stands are better able to serve medical professionals and patients in hospitals and clinics. Quality rolling IV poles are a necessity so they can easily move through hospitals and clinics over thresholds multiple times without the risk of weakening or falling apart.
The right hospital IV poles can help your medical professionals provide the best care to patients.
Why Your Hospital Needs Rolling IV Poles
Stationary IV poles, hanging IV poles, and IV poles mounted on hospital beds don't offer the same flexibility as rolling IV poles. For instance, rolling IV poles can carry a variety of important IV accessories that are necessary for nurses to use every day.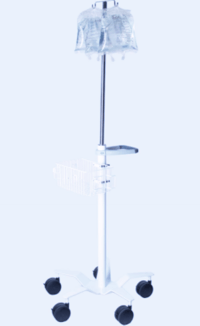 They can also be easily transported from hospital room to operating room, or wherever they are needed most around the hospital. This means your IV pole should not only roll, but also be reliable and made of the strongest materials.
You can ensure your medical staff can provide consistent, fast, and reliable healthcare when they have the life-saving IV poles that go where they go.
4 Benefits of Leveraging Rolling IV Poles
Marlin Steel is stocked with the the most efficient and well-designed rolling IV poles that are secure enough to withstand transport. Your hospital can take advantage of this medical equipment and reap some great benefits.
1. They Are Easy for Medical Staff to Maneuver
One of the most important benefits of rolling IV poles is how easy they are for nurses and other medical staff to move. It allows them to transfer patients who can't move on their own to other locations with ease.
When patients can transfer themselves using rolling IV stands, it frees medical staff to do other things instead of accompanying every patient that wants to get out of the hospital bed.
2. Patients Can Move Them at Their Convenience
The rolling IV pole is also ideal for patients who are able to and desire to move on their own. Getting up to use the bathroom can be a major chore for patients without rolling IV stands. It is also nice for patients who want get out of bed and take a walk for some exercise.
3. They Are Ergonomic
Ergonomics refers to the comfort experienced between user and device when they use a product. It also includes things such as the appearance of the IV pole and the height adjustment. High-quality equipment like Marlin Steel's rolling IV stands ensure comfortability and satisfaction for both nurses and patients.
The result of good ergonomics is satisfied patients and more productive nurses.
4. They Are Stable
The most important feature of rolling medical IV poles is its stability. This is because it directly correlates with safety. The stability of IV poles means they are not easily knocked over. IV poles that don't role and can get knocked over are likely to injure patients or those around them.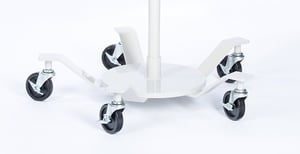 When a stationary IV pole stand falls, it also disrupts the flow of the IV fluid, which can have major consequences for the patient. Marlin Steel has rolling IV poles with five wheels, which provides more stability than poles with four or less wheels.
View Our Inventory of High-Quality IV Poles and IV Pole Accessories
In addition to Marlin's high-quality rolling stainless steel IV poles, it also has a wide variety of IV pole accessories such as monitor trays, stainless steel baskets, wire baskets, and laptop trays. Purchasing medical equipment like IV poles from Marlin ensures that you are receiving durable products from top American-trained engineers. Learn more by downloading Marlin's IV pole brochure.
Check out the wide array of medical and pharmaceutical products today provided to you by Marlin Steel. Contact Marlin Steel today for any questions you have about its IV pole stands and accessories.