As familiar items in any medical setting, IV poles and IV pole stands are necessary for medical professionals to provide improved patient care. Also known as intravenous poles, IV poles allow for patients to be supplied with continuous fluids and medicines and are essential life-saving equipment for many.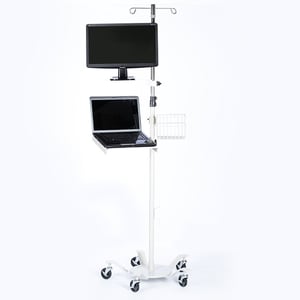 Not all IV poles are built the same, however. High-quality IV poles are essential assets for healthcare workers who need them to deliver consistent results repeatedly throughout the day. Quality medical IV poles need to be both efficient and complement hospital staff so they can provide bedside care when and where they're needed most. With the right IV pole accessories and stands, medical professionals can deliver the best patient care possible.
Why Hospitals Need Efficient Equipment
The healthcare industry utilizes a variety of specialized equipment and devices to continuously provide improved patient care. Equipment efficiency is essential for hospitals to cut costs, provide the best quality of care, and save lives. Patient demands need to be met across hospital wings, which means equipment, such as IV poles, need to be as mobile and accessible as possible. Otherwise, patients' lives may be at stake.
In addition, hospitals need to balance delivering the highest possible care using quality equipment. Medical equipment may not be easily replaced due to high costs and limited availability, so products need to be durable enough so they can be relied on to keep up with the demanding applications of hospitals without breaking. The higher quality equipment, the more likely healthcare workers can rely on them to deliver consistent results.
How Do the Marlin Steel IV Poles Improve Patient Care?
Marlin Steel's IV poles and accessories give your hospital staff the most high quality medical equipment available and are designed by Marlin's engineering staff to deliver the greatest equipment efficiency.
Greater Efficiency
Hospitals need IV poles to be accessible as possible. This means they need to be mobile to be easily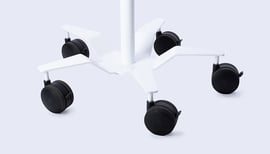 transported through hospitals floors to arrive at patient's bed sides as quickly as possible. Marlin Steel's IV pole stands are built for efficiency by featuring a heavy-duty sheet metal base with high-quality castors for quick and easy steady transportation throughout hospital floors. This allows IV poles to be wheeled to where they're needed as efficiently as possible and be consistently stable and reliable when going over changes and elevations in floor planes.
In addition, each medical IV pole stand's heavy-duty base has been robotically welded for enhanced stability so hospital staff can be reassured IV poles will not tip over and potentially damage staff, patients, and other equipment.
Better Durability
Medical equipment must be trusted to remain in prime condition despite repeated usage and intense environments. Marlin's IV poles are chrome-plated or white powder coated and composed of a thick, heavy-duty tubing for greater durability. In addition,IV pole baskets are manufactured with stainless steel which is only tough but also corrosive-resistant for a long-lasting lifespan.
Marlin Steel's IV poles, IV pole stands, and accessories are designed and manufactured in the U.S. Purchasing products made in the U.S.A not only supports American jobs, but also means your clinics and hospitals are receiving high quality products guaranteed to deliver consistent results. Since cheaply made foreign IV poles may damage delicate equipment parts, stalling operations and putting patients at risk, purchasing equipment quality should be a top priority.
Allows for Multitasking
Marlin Steel's IV poles offer additional features designed to facilitate efficiency unlike other IV poles. These IV pole accessories allow for greater support for healthcare workers, whether by the patient's bedside or wheeling IV poles across hospital wings. All IV pole accessories are expertly designed to securely attached to the IV pole for the easiest possible accessibility.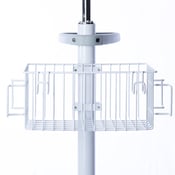 IV Pole Wire Baskets
These stainless steel baskets are custom-designed to attach to medical IV poles to securely holdessential items. Hospital staff can now have items such as notebooks, files, and other equipment within reach of IV poles for the greatest accessibility and facilitate efficient patient care.
Laptop Stand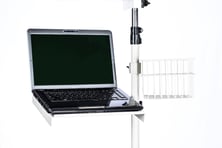 Marlin Steel's custom laptop stand eliminates any extra trips back to nurse station stands by allowing hospital staff to quickly take patient notes from their bedsides from the convenience of the IV pole.

Monitor Stand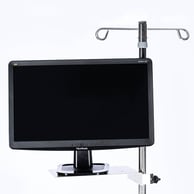 This custom stand can support even heavy medical monitors by securing them directly to the Marlin Steel medical IV pole.
Choose Marlin Steel IV poles and Accessories For the Best Medical Equipment
Marlin's medical IV poles and IV pole accessories deliver the equipment efficiency and reliability your hospital and clinic depends on. When medical products are cheaply made, there's a greater likelihood they'll provide less stability, mobility, and potentially damage equipment and slow operations. Healthcare workers need to be reassured their medical equipment is of the highest quality and will deliver consistent results so they can focus on providing the best patient care. With Marlin Steel's reliable IV poles and medical equipment, you can be confident you're receiving only the best for your healthcare workers and patients.
Ready for introducing the highest quality IV poles and accessories in your hospital, or have any questions about Marlin's medical and pharmaceutical products? Contact Marlin Steel today!