Every day, millions of healthcare workers rely on medical tools and equipment to administer medical treatment to their patients. IV poles and IV pole stands are one such piece of equipment. However, not all IV poles are built the same, so it's important to choose high-quality IV poles that meet the needs of healthcare workers. To provide the best possible patient care, many healthcare facilities choose stainless steel IV poles and accessories.
QUICK LINKS
The Importance of Quality IV Poles
Improving Hospital Efficiency with Quality IV Poles & Accessories
How Marlin Steel IV Poles Improve Hospital Efficiency
Choosing Marlin Steel IV Poles & Accessories
The Importance of Quality IV Poles
An intravenous pole, or hanging IV pole, is a device that holds a bag (or bags) of intravenous fluids in place as it is being administered to a patient through a tube. Medical professionals can hang the bag(s) of IV fluids from hooks at the top of the pole, then connect the fluids to the patient's veins via tubing to deliver the fluids safely and effectively at a constant rate.
IV maneuverability is important, so many IV poles feature a rolling, weighted base. This makes the patient's IV fluid delivery system portable, allowing them to move about while still receiving lifesaving care. When considering a rolling base, it is important to ensure that the base is appropriately weighted so that it remains stable throughout its use for patient treatment.
Due to their repeated usage, IV poles need to be built of durable materials so they can be relied on to keep up with the demanding applications of hospitals and other healthcare facilities. When choosing hospital IV poles, you want to make sure they're made of the strongest materials and are able to withstand repeated use and the harsh environments of medical applications.
Improving Hospital Efficiency with Quality IV Poles & Accessories
To cut costs, provide quality care, and save lives, efficient healthcare equipment is essential. For IV poles, this means stands that are highly functional, easily accessible, and mobile. After all, patients' lives could be at stake. Of course, hospitals and other healthcare facilities may need to follow tight budgets. So, it's important that they choose durable and reliable equipment that won't need to be continually replaced.
When choosing IV poles for your medical staff, there is much to consider. They must be heavy-duty enough to withstand the rigorous demands of the hospital environment. In general, poles made from stainless steel are more durable and long-lasting than versions fashioned from chrome. While it may be less expensive to use Chrome IV poles, you may pay more in replacement costs as they are known to rust over time, which can lead to an infection control problem.
When choosing IV poles for your team, think about any additional features that can help them deliver the highest level of care. For example, some IV poles include an attachable wire basket that can hold clipboards, notebooks, files, or any other items that medical professionals may need.
Others may include laptop stands that allow medical professionals to input and access electronic medical records as they administer treatment and interact with patients. Some include attached monitor stands that allow even the heaviest of vital signs monitors to become portable components of patient care.
How Marlin Steel IV Poles Improve Hospital Efficiency
Marlin Steel's IV poles and accessories give your hospital or healthcare workers the highest quality medical equipment available and are designed by our engineering staff with provider and patient needs in mind.
Better Mobility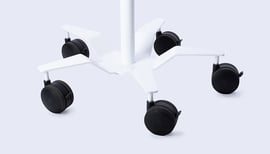 Hospitals need IV poles to be accessible as possible. This means they need to be mobile to be easily transported through hospitals floors to arrive at patient's bedsides as quickly as possible. Marlin Steel's IV pole stands are built for efficiency by featuring a heavy-duty sheet metal base with high-quality castors for quick and easy steady transportation throughout hospital floors. This allows IV poles to be wheeled to where they're needed as efficiently as possible and be consistently stable and reliable when going over changes and elevations in floors.
In addition, each medical IV pole stand's heavy-duty base has been robotically welded for enhanced stability so hospital staff can be reassured IV poles will not tip over and potentially damage staff, patients, and other equipment.
Greater Durability
Medical equipment must be trusted to remain in prime condition despite repeated usage and intense environments. Marlin's IV poles are chrome-plated or white powder coated and composed of a thick, heavy-duty tubing for greater durability. In addition,IV pole baskets are manufactured with stainless steel which is only tough but also corrosive-resistant for a long-lasting lifespan.
Made in the USA
Marlin Steel's IV poles, IV pole stands, and accessories are designed and manufactured in the United States. Purchasing products made in the U.S.A not only supports American manufacturing but also allows you to be confident you're receiving the highest quality medical equipment. Clinics and hospitals need to be reassured that the intravenous stand design will deliver consistent results. When products are cheaply made, there's a greater chance they stall operations or damage delicate and invaluable equipment parts.
We deliver Quality Engineered Quick™ so you can be confident you're receiving only the best from American-trained engineers for your healthcare workers.
More Multitasking Capabilities
Marlin Steel's IV poles offer additional features designed to facilitate efficiency unlike other IV poles. These IV pole accessories allow for greater support for healthcare workers, whether by the patient's bedside or wheeling IV poles across hospital wings. All IV pole accessories are expertly designed to securely attached to the IV pole for the easiest possible accessibility.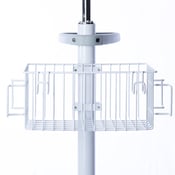 IV Pole Wire Baskets
These stainless steel baskets are custom-designed to attach to medical IV poles to securely hold essential items. Hospital staff can now have items such as notebooks, files, and other equipment within reach of IV poles for the greatest accessibility and facilitate efficient patient care.
Laptop Stand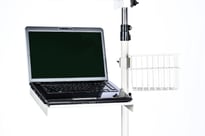 Marlin Steel's custom laptop stand eliminates any extra trips back to nurse station stands by allowing hospital staff to quickly take patient notes from their bedsides from the convenience of the IV pole.

Monitor Stand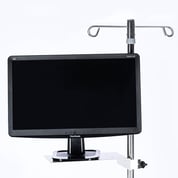 This custom stand can support even heavy medical monitors by securing them directly to the Marlin Steel medical IV pole. It allows doctors and nurses to quickly see vitals and other patient data, right from the IV pole itself.
Choose Marlin Steel IV Poles & Accessories for the Best Medical Equipment
Marlin's medical IV poles and IV pole accessories deliver the equipment efficiency and reliability your hospital and clinic depends on. When medical products are cheaply made, there's a greater likelihood they'll provide less stability, mobility, and potentially damage equipment and slow operations. Healthcare workers need to be reassured their medical equipment is of the highest quality and will deliver consistent results so they can focus on providing the best patient care.
With Marlin Steel's reliable IV poles and medical equipment, you can be confident you're receiving only the best for your healthcare workers and patients. Ready for introducing the highest quality IV poles and accessories in your hospital, or have any questions about Marlin's medical and pharmaceutical products? Contact Marlin Steel today!