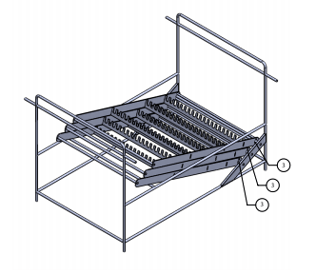 Whether dealing with surgical tools, medication containers, or hypodermic needles, companies in the medical and pharmaceutical industry have to meet stringent standards for part sanitation. That's why many in these industries rely on stainless steel wire baskets for parts washing and sanitizing.
Of course, not all baskets and racks are created equally, and many companies need custom-made products that will accommodate specific products and manufacturing processes. That's where Marlin Steel comes in.
QUICK LINKS
Why Order Custom Cleaning Baskets and Racks?
It's often assumed that parts damage happens during the production or usage of medical devices and equipment. However, damage can occur at any time and so working to ensure that all parts of the medical manufacturing process maintain part integrity is crucial. This is especially important during the parts washing process.

During the parts washing process, damage may be the result of a poorly designed basket. A mass-produced basket won't take into consideration the specific needs of your products and the demand of your washing processes. They may also be made of lesser quality material that won't withstand harsh sterilization methods, such as heating and chemical cleansing.

Whether it's sharp edges, parts hitting other parts, or parts being thrown from the basket, any number of seemingly innocent design elements can cause lasting damage and lead to considerable delays and costs. Marlin's

custom steel wire baskets

reduce damage to parts by taking into account the demands of your parts and processes, including washing, transport, and finishing.

5 Reasons Stainless Steel Custom Cleaning Baskets and Racks Are Ideal for Medical Parts Washing
Stainless steel is one of the most popular material choices for custom wire forms. It offers numerous advantages for a wide variety of applications, including:
1. High-Temperature Resistance
Many applications require wire forms to be exposed to high-temperature processes for sterilization. Whereas metal alternatives such as plastic would melt, stainless steel tends to keep its structural integrity despite the heat. Stainless steel grade 410, for example, has a temperature range of 1480-1530°C (2696-2786°F).
2. Durability
Stainless steel boasts high tensile strength for impact tolerance and scratch resistance. Scratches and gouges on the surface of less durable materials can allow fluids, contaminants, and bacteria to build up inside medical devices and equipment, creating hazards that can lead to infections when they're put to use.
3. Open Space for Water and Air Flow
The open space offered by wire mesh baskets allows air and liquids to freely pass through the basket so held parts can be washed efficiently. However, the space between wires is kept tight enough to ensure that the parts themselves cannot pass through. This can be enhanced by adding a hinged wire mesh lid to the basket.
4. Long Lifespan
Stainless steel's structural durability reduces damage even during intense sterilization processes, meaning that custom steel wire forms can be used repeatedly without replacements. Investing in stainless steel products provides medical companies with a greater ROI since steel wire forms can last for years or even decades.
5. Corrosion Resistance
Stainless steel wire forming is ideal for medical industry applications that involve harsh environments of caustic chemicals. Due to its highly corrosion-resistant abilities, stainless steel can be used repeatedly in corrosive solvents and chemicals, such as blood, chlorides, and sanitizing agents, and still maintain its structural integrity.
Case Study: Custom Cleaning Racks for a Major Medical Manufacturer
Recently, a billion-dollar U.S.-based medical device and equipment manufacturing company contacted Marlin Steel requesting a custom-made, stainless steel basket insert. This insert needed to act as a rack and improve upon an existing design they already were using in a number of ways.
The Medical Client Challenge
To create the custom-made design, Marlin Steel needed additional details which the client provided through a questionnaire. The stainless steel basket rack needed to:
Be resistant to water, heat, and chemicals, as the washing process would involve submerging it in a heated (130

°

F) ultrasonic cleaning tank with an enzymatic cleaning solution for approximately 45 minutes.
Keep components from coming into contact with one another or any portion of the rack or frame (no metal-on-metal contact) to avoid scratching or damage.
Be

removable

from the fixture frame for easy loading and unloading.
Have handles with enough finger clearance to avoid contact with components.
Have all sharp edges rounded or chamfered.
Hold at least 60 components at an angle.
Bear a load of at least 25 lbs.
In addition to basket insert specifications, the client required a 15-day turnaround for the development of a highly detailed project plan, along with a dedicated Project Manager to track the project through completion.
The Marlin Steel Solution
Marlin Steel's team of engineers got to work right away, designing a medical device cleaning rack that would meet all of the client's specifications. A Project Manager was also assigned to the project, who would keep the client abreast of the team's progress and act as a single point of contact.
To ensure their designs could withstand the washing process as described by the client, Marlin's team ran an FEA (Finite Element Analysis) using Autodesk physics simulation software. The simulation predicts how the product designs will react to real-world forces, vibration, heat, fluid flow, and other physical effects. It saves the team from building multiple prototypes (which save the client money) and offers faster testing speeds (minutes or hours, not weeks or months) which accommodated the client's 15-day turnaround time.
Marlin's final stainless steel basket four-rack design, which was not welded to the frame for easy removal, was heat-, water-, and chemical-resistant and angled with the ability to hold over 60 components weighing over 25 lbs. It also provided space between frames to prevent any metal-on-metal contact. The client said that Marlin's work "exceeded expectations" and we look forward to continuing our partnership!
Read more about our work with medical clients here.
How Marlin Steel Can Provide Your Business with Custom Stainless Steel Solutions
Stainless steel wire forms offer numerous advantages for a variety of medical industry applications, improving the ROI on products and increasing efficiency and productivity.
Further, the right wire forming provides you with the quality you need to meet your performance goals.
However, not all baskets and racks are created equally, and you're likely to have some specific needs, including basket and rack dimensions, load-bearing ability, features such as handles and lids, the ability to handle exposure to the elements, and more. With Marlin Steel, we bring custom-made metal products to life, designed to your exact specifications, and we do it quickly and efficiently through FEA. We call our process "Quality Engineered Quick."
Ready to speak with an expert about your stainless steel wire form needs? Contact Marlin Steel today and see what we can do for you!