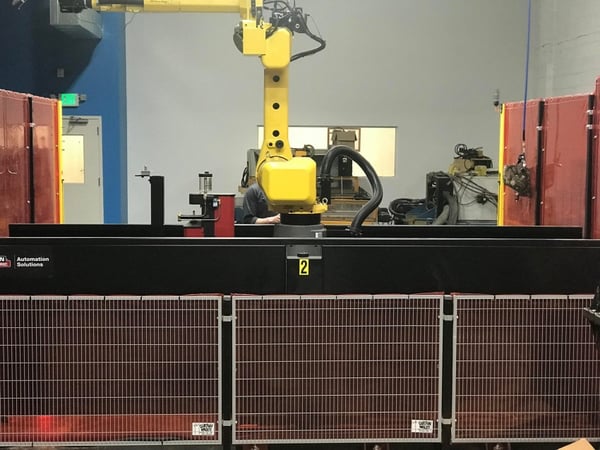 Marlin Steel is a big proponent of growing American manufacturing by using cutting-edge technology and training to produce superior-quality products. This commitment to excellence in manufacturing begins on our factory floor—where we use a range of advanced manufacturing automation tools and highly-trained, degreed mechanical engineers to perfect each custom metal form that Marlin makes. Focusing on "Quality, Engineered Quick®" has helped Marlin achieve significant growth over the last few years.
So, to accommodate this growth and expand its manufacturing capabilities, Marlin Steel underwent a transformational few weeks. How did Marlin transform? And, what capabilities have been added?
Here are a few highlights from Marlin Steel's recent transformation:
Heavy-Duty Power Up
Marlin Steel added an extra 3,000 amps of 480-volt power—which shut down Marlin's existing power while the switchover occurred, but was well worth the upgrade for the additional power and stability. This extra power was necessary to help power the new factory automation that Marlin planned to add.
New Lincoln Robotic MIG/TIG Welder
Marlin Steel added a new Lincoln robotic welding machine that could perform both MIG (GMAW) and TIG (GTAW) welding functions. This new welding machine expanded Marlin's options for welding aluminum, stainless steel, and plain steel metal forms.
One interesting feature of this welding machine is that it has a laser finder on the end of its welding arm, which enables it to track and adapt to changes in part positions during weld operations for greater accuracy and consistency.
Timesaver 2200-Series Deburring Machine
To supplement Marlin's wet belt sanding machine, a new dry deburring machine was added to Marlin's parts finishing cell. This deburrer helped to expand not only Marlin's capacity for deburring custom wire and sheet metal forms, but the range of options that Marlin can choose for deburring operations.
HydMech S-23A Saw
The HydMech S-23A Pivot Style band saw is a workhorse device that Marlin Steel added to its factory floor to create angled cuts in wires, tubes, and bars at will. This angled cutting option expands the options available to Marlin's engineers when they design custom wire forms, allowing them to create baskets with different joints from what could be achieved with the Rouselle Straight Side Press alone.
Additionally, the CNC vise and loading systems attached to this machine allowed for automatic loading of parts into the cutting zone with a 0.005" tolerance when cutting 16" x 20" bundles.
Ultimat UMW-100
This machine combines wire bending and resistance welding operations into a single device. The Ultimat UMW-100 can make 2D bends in steel wires at high speeds and complete welds in that shape to create a closed loop, square, or other shape out of metal straight from the coil—saving time and process steps that would normally be spent on preparing the wire for separate processes and equipment.
Because the resistance welder uses medium frequency direct current (MFDC) welding technology, it can complete welds in 2/1,000 of a second to minimize power consumptions and weld spatter.
All-New Skylights and LED Lighting
Nobody likes working in dim and gloomy conditions—it isn't safe, nor does it make for the kind of positive work environment that stimulates creative solutions to traditional manufacturing challenges. To improve the shop floor's ambience and make things a bit brighter, Marlin added seven new skylights to the factory.
For those cloudy days, a new series of energy-efficient LED lights also were added to the factory to make sure that the shop floor remains well-lit and safe.
Brand-New Air Compressor
Marlin added a new air compressor system from Quincy Compressor to replace its old air compressor. While the old compressor worked, the new one can move three times the amount of air to meet Marlin's needs for compressed air more efficiently.
Major Redesign of the Shop Floor Layout
With the addition of several new machines to Marlin's factory floor, it was the perfect opportunity to rearrange things to make production more efficient. So, Marlin Steel ended up moving nearly 95% of its existing machines to make room for the new additions and to streamline production processes.
The sight of Marlin's Trumpf laser and CNC punches being carried through the air 20+ feet off the ground across football field-length distances was a unique experience. The ending benefit was that not only were processes streamlined, a clear throughway was created stretching from one end of the factory to the other that reduced safety concerns by giving employees a clear space to travel through.
Another portion of this layout redesign was the refurbishment of Marlin's offices, which created new spaces for the engineers to create in and new computer equipment for them to use to make their designs.
All in all, these improvements will help Marlin further increase its performance to make even higher-quality custom metal forms faster.