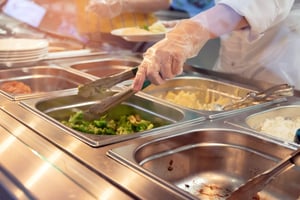 Any food processing operation involves a variety of challenges for making food safe on a tight timeline and budget. This is especially important when it comes to school lunches. Besides formulating nutritious meals, school food systems must also store and transport lunches without compromising the sanitation of the food.
Marlin Steel has years of experience in making custom stainless steel baskets for a variety of food processing tasks. Stainless steel wire baskets can help schools achieve the food sanitation standards they must uphold to deliver safe food for their students.
Food Sanitation Challenges Schools Face
School systems face a variety of challenges in food sanitation, including meeting the requirements of the U.S. Food and Drug Administration (FDA) regulations, which demand the most strident sanitation methods.
Food for all the schools in a region are made in a central kitchen, cooked 90% through, put on trucks, and sent to all the schools around. Then, the food is stored until lunch time and then heated up the last 10% to be served and given to students for school lunch. Wire baskets are typically used to transport these lunches on trucks to schools.
Ensuring food is kept safe and sanitized through is a challenge schools have to face every day during this process. Every action on the journey, from the central kitchen to the school cafeteria, has the potential to negatively impact the sanitation of the food.
How Can Marlin Steel Wire Baskets Help With Food Safety?
Marlin's wire baskets can make this a more safe and sanitary process so students can receive safe and sanitary food without a question of spoilage or contamination. Here's how.
A More Sanitary Process Due To Stainless Steel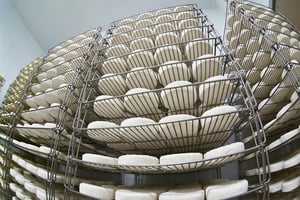 According to the FDA guidelines for food regulation in schools, restaurants, and other food service establishments, "materials that are used in the construction of UTENSILS and FOOD-CONTACT SURFACES of EQUIPMENT may not allow the migration of deleterious substances or impart colors, odors, or tastes to FOOD." Such materials also need to be:
Safe;
Durable, corrosion-resistant, and nonabsorbent;
Sufficient in weight and thickness to withstand repeated washing;
Finished to have a smooth, easy-to-clean surface; and
Resistant to pitting, chipping, crazing, scratching, scoring, etc.
Not just any food-safe metal will do the trick when it comes to transporting and serving foodstuffs; using the wrong kind of metal can compromise the sterility of the food. For instance, some seemingly food-safe metals are not resistant to pitting, due to heavy exposure to salts and chlorides. The result can cause metal rusting, contaminating the food for students.
Stainless steel wire baskets provide a more sanitized environment for food due to the naturally sterile properties of stainless steel. Additionally, stainless steel is non-absorbent, so there is no risk of cross-contamination with other substances.
Easy To Clean For Better Sterilization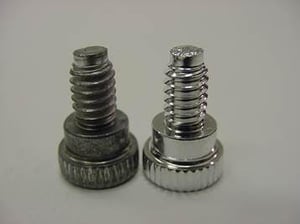 Stainless steel baskets make food sanitation easier with electropolishing. An electropolish finish makes the basket smooth on a microscopic level, so bacteria, food byproducts, or other contaminating debris cannot stick to the metal. This ensures the most thorough sterilization when compared to alternatives, such as plastic.
Stainless steel baskets can also withstand repeated exposure to heat-based sanitizing methods with ease due to steel's high melting point.
Durability For Extended Use
Stainless steel is extremely durable in terms of tensile strength and corrosion resistant. For instance, food-grade stainless steel 304 is resistant to chlorides and durable enough to prevent corrosion of other acidic substances.
Stainless steel baskets that are food-grade are capable of withstanding extreme temperatures that would otherwise melt alternatives. Sanitizing processes commonly involve high-heat methods, and stainless steel baskets need to be durable enough to be routinely exposed to such high temperatures.
Maintaining sanitary conditions is both a priority and a challenge for schools trying to get healthy food ready for students. Marlin Steel's wire baskets can greatly improve the sanitary conditions of your school lunch operations so students can receive food that is both nutritious and safe!
The experts at Marlin Steel can make the best food-grade metal baskets for all your food-making and processing needs. If you have specific needs for your school lunch wire baskets, then Marlin's engineers can create custom wire baskets to meet your requirements. For more information and ideas about how to use custom food processing baskets, reach out to the team at Marlin Steel today!