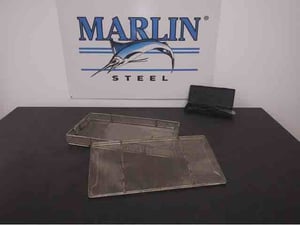 Finding the right custom wire medical basket for sanitary applications is difficult. Companies that manufacture pharmaceutical and medical products have to meet stringent standards for sanitation and cleanliness. This is why many pharmacological and medical companies rely on stainless steel wire baskets.
However, not just any stainless steel wire basket will work for your pharmaceutical company's manufacturing processes. It's often necessary to use a custom medical basket to accommodate the specific needs of your products or the finishing processes you're putting them through.
Marlin Steel has years of experience in crafting custom medical baskets and trays for a variety of applications in the pharmaceutical industry. What are the benefits of using a Marlin Steel wire basket that is custom-made for your particular medical manufacturing application? Here's a short list of the benefits of using custom Marlin wire baskets:
1: Improved Useful Life to Reduce Replacement Costs
Marlin's custom wire basket engineering team exhaustively tests each custom wire basket design using a finite element analysis (FEA) software program. This FEA program takes the design information, breaks the design into thousands of "finite" elements, and simulates the effects of different stress factors on each one.
Virtual testing can simulate years or decades of use in mere minutes—allowing for much more extensive testing than physical prototype testing would. This lets the design team spot flaws that would take months or years to manifest so they can be corrected before assembly begins.
By fixing these problems early, Marlin's engineering team can maximize the useful life of each custom medical basket. This, in turn, helps to reduce the total cost of ownership for Marlin Steel wire baskets since they won't need to be replaced as often.
2: Improved Sanitation Control
Marlin Steel's engineering team understands the unique challenges of maintaining sanitary manufacturing conditions in the pharmaceutical and medical industries. Marlin engineers are able to design custom stainless steel wire baskets with an eye towards good sanitation practices.
For example, Marlin's engineers often recommend using electropolished stainless steel for custom pharmaceutical baskets because the electropolishing process removes microscopic flaws in the surface of the steel, where bacteria could hide. Marlin's engineers can also engineer custom wire baskets and carts in such a way as to prevent runoff liquids from collecting inside them.
Rolling steel carts with removable covers also help to facilitate ease of sanitation by protecting baskets and their contents from exposure to incidental dust and dirt while being moved between processes.
3: Easier Movement of Medical Products Between Processes
Marlin's engineering team can easily customize a steel wire basket design for compatibility with whatever method you use to move your products from one manufacturing process to the next—whether you move products by hand, by conveyor, or via a hoist system.
Specifically designing a custom basket for use with your movement method helps save time and effort on manufacturing processes while preventing problems. For example, a custom basket with rounded edges on the bottom can ensure smooth movement along a conveyor system that has steep slopes or inclines, preventing system jams. Large handles can be added to baskets meant to be held by hand to make them easy to grab even by employees wearing thick protective gloves.
This helps to save time and effort during the manufacturing process that would otherwise be wasted on manhandling baskets and clearing jams in the conveyor system.
4: Reducing Parts Rejection Rates
One of the biggest challenges in the manufacture of delicate medical and pharmaceutical equipment is reducing the rate of parts rejections. Having to reprocess or remanufacture parts after making them once is an enormous waste of time, labor, and resources.
Marlin's engineering team can take numerous steps to reduce your parts rejection rates for manufactured medical equipment, including:
Applying Coatings to Protect Held Parts. In ultrasonic parts-washing processes, contact with the bare metal of a stainless steel basket can easily cause damage to held parts. By applying a semi-soft polymer coating, Marlin's design team can drastically reduce the need to remake parts.


Meeting Tight Parts Tolerances. A common cause of failure in an automated manufacturing process is the misalignment of parts held in the basket. Marlin's own automated manufacturing equipment allows the manufacturing team to meet tight parts tolerances to prevent this issue.


Creating Custom Inserts to Hold Parts. When part alignments and positions have to be exactly right, Marlin's engineering team can create custom inserts for medical baskets to hold each part precisely in place. This minimizes the risk of parts getting damaged by automated equipment.
Do you need a custom wire basket for a medical manufacturing application? Contact Marlin Steel for a stainless steel medical basket quote today!