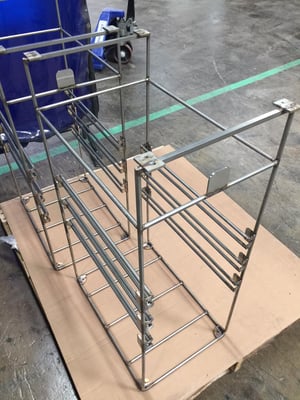 It's another day, another made-in-America custom stainless steel rack for the Marlin Steel team. Recently, a pharmaceutical company approached Marlin Steel to make a set of grade 316 stainless steel racks for carrying various components through their production line. These racks would be exposed to several different parts finishing processes—including a particularly harsh sterilization process.
One of the big requirements of the rack's design was that it needed to be open enough for easy access while keeping parts secure from one end of the production line to the other end. A series of stainless steel bars would provide an easy spot for the client to slide their trays in and out of the racks as they need to access specific parts.
Why Stainless Steel 316 Grade Racks?
For most common parts washing applications, grade 304 stainless steel is typically sufficient. However, in this case, 304 SS may not have been enough to survive the client's particular sterilization process. Sterilization processes in the pharmaceutical industry often employ a combination of strong disinfectants and high temperatures to destroy bacteria and viruses that could otherwise contaminate medical tools and containers.
While 304 stainless steel can easily survive the oven-like temperatures used in many sterilization processes, the specific chemicals used by this client (which contained significant levels of concentrated chlorides and corrosives) would have compromised the alloy's protective oxide layer. Repeated virtual physics simulations showed that mere months of use would have caused carts made of grade 304 material to start rusting—which could have compromised the sanitary conditions that the client required.
Instead, a more chemically-resistant alloy was needed to withstand the client's parts sanitation process. So, 316 stainless steel was chosen because it could survive exposure to the client's sterilization chemicals.
Ensuring a Sanitary Container
Holding up to the rigorous standards demanded by the U.S. Food and Drug Administration (FDA) for safety and sanitation is no small feat for any pharmaceutical company. Not only does the manufacturer have to maintain a clean facility that's free of potential sources of contamination, the containers used to hold their products also have to eliminate the risk of microscopic agents collecting on them as much as possible before, during, and after sterilization.
Marlin's stainless steel racks helped the client achieve this in two ways:
Open Space. By using an open design with minimal material, the rack minimized the surface area on which contaminants could cling. Rounded wire baskets mounted in the racks would further eliminate chances for liquid runoff from any processes to pool near the components being sterilized.
Electropolishing the Racks. The process of electropolishing strips the rough surface layer of the racks, leaving a microscopically smooth surface. This smoothness robs bacteriological agents of any crevices they can stick to—reducing contamination risks greatly. This process also enhances the chemical resistance of the steel by modifying its protective oxide layer.
Proudly Made in the USA!
Once the particulars of the custom wire cart's design were finalized, Marlin's production team took over—right here in Baltimore, Maryland.
The production team established a plan for the order in which each piece of each stainless steel rack would be made to maximize production efficiency, then programmed a series of automated manufacturing robots to carry out the necessary sequence of assembly tasks for each part. These machines could run day and night almost totally independently of human assistance once they were set up—allowing them to rapidly manufacture the components for each custom stainless steel wire rack.
By taking advantage of this kind of automation, Marlin Steel can outperform its foreign competition on both quality and scale while making everything right here in the USA! By making custom wire forms in the U.S., Marlin Steel can support the American economy by creating and maintaining American jobs—and these workers can then contribute to Maryland's local economy and tax base.
In the end, Marlin Steel was able to take the pharmaceutical rack design from concept to shipping in just a couple of weeks—helping the client stay on-budget and on-schedule for their pharmaceutical manufacturing.
Learn more about how Marlin Steel's made-in-the-USA quality can help you fulfill your manufacturing needs by contacting us today!