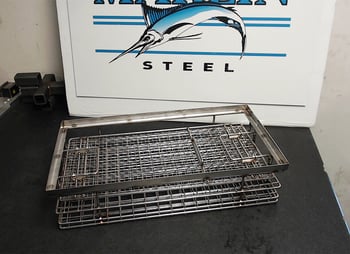 Marlin Steel's workers pride themselves on creating top-quality custom wire baskets, racks, and other metal forms to meet the needs of clients in a variety of industries. That many companies keep coming back to Marlin Steel to order more custom parts and products is a testament to the hard work and dedication of Marlin's production and engineering teams.
Recently, an S&P 100 pharmaceutical company came to Marlin with a request for more custom wire washing racks for their pharmaceutical manufacturing process. This was the fifth order the client had placed with Marlin's team for this one product—mostly because the racks worked beautifully for their needs and they wanted to expand production.
Why They Made the Switch to Marlin
When Marlin was initially approached by the client to make a set of custom wire washing racks for a parts cleaning process to be used on test tubes, vials, and other long, thin containers used by the pharmaceutical giant, the client was having to cycle through cheap washing racks way too frequently with a long lead time on replacement delivery.
The cheap commodity racks would wear out after only a few weeks of use, and took weeks for the overseas supplier to complete and ship out a replacement order. Worse yet, these overseas shipments were prone to delays because of customs or delays in clearing cargo space to the U.S.
Between the quick rate at which racks would fail and the long delay for shipping, the client was often left with fewer part washing racks than they needed to keep production running at peak efficiency. Ordering more racks at once could have helped; but that would also have meant wasting inventory and factory floor space on washing baskets that weren't being used.
To maximize productivity while also minimizing wasted floor space in the factory, this client needed more reliable baskets that could withstand their cleaning and sanitizing process, while simultaneously providing rapid delivery once an order was placed.
To increase quality and minimize time-to-delivery, the client started looking at domestic U.S. custom metal forming companies rather than overseas ones.
Their search eventually led them to Marlin Steel.
Making a Better Parts Washing Wire Rack
When Marlin first got the order to create a custom wire washing rack for a parts cleaning process, Marlin's engineering team sent the client a questionnaire asking for specifics about the kind of cleaning machine that was being used, what chemicals were present, how long wash cycles were, the average operating temperature, and more. This questionnaire was vital for ensuring that the wire rack Marlin's team produced would be able to live up to the client's needs.
After receiving the answered questionnaire, Marlin's team went to work on designing a wire rack that could easily hold test tubes and vials of different sizes. The answers in the questionnaire helped guide specific design choices, like which material to use for the rack's frame or how thick to make the wires and space them out.
Once the rough draft of the design was complete, it was tested using a Finite Element Analysis (FEA) that used computer simulations to check how well the design would hold up to the client's cleaning process on a daily basis. In minutes, years of hard use could be simulated with each fault and failure catalogued—along with their causes.
Why did Marlin test the design so vigorously when the client had a preexisting design? One reason was that the current washing rack was clearly insufficient to the client's needs and needed to be changed. Also, each change needed to be tested to see how the change would affect the performance of the basket. To make the best custom metal form possible, the design needed to be thoroughly tested.
In the end, the client loved the final product, and the speed with which it was delivered, so much that they would keep coming back to Marlin to replace each of the older wash racks as they phased them out. Additionally, they started to order other custom metal forms from Marlin for other processes and products.
Now that the S&P 100 pharmaceutical company is able to get parts and racks shipped the same day, they place orders as-needed,because Marlin keeps a min/max stock of the parts in reserve—allowing the client to have all the inventory they need, when they need it, without tying up cash in warehouse space.
Every time the client orders a part from Marlin, they have it the next day.
Check out some of Marlin's other resources to learn more about how Marlin makes the perfect custom steel baskets and racks for a variety of clients around the globe!