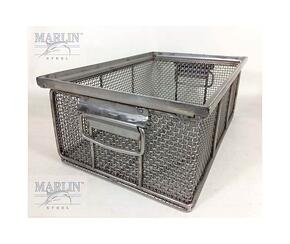 Here at Marlin Steel, our team of mechanical engineers has extensive experience in creating innovative designs that balance many different needs.
For a recent job with one of our clients, they needed an extraordinarily durable parts washing basket with a reinforced frame that could take a heavy load, plus another fully loaded basket on top of it. On top of that, the basket had to be easy to carry by hand so that workers could move it from one parts washing process to the next.
With that in mind, our engineers set to work on designing the perfect heavy-duty stackable parts washing basket for this customer.
The Frame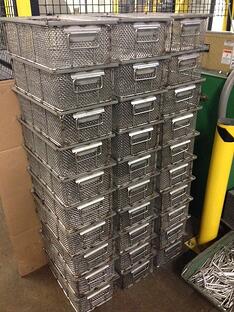 To make the basket able to hold heavy loads, as well as other heavily-loaded baskets, our engineers decided to use an extra thick wire for the basic frame and for the structural supports along the bottom. Each part of the frame is thoroughly welded to the mesh and other parts of the frame to provide the maximum structural integrity possible.
Along the top, custom-cut and punched sheet metal bars were installed to act both as a reinforcement for the frame of the basket and as a convenient depression to snugly hold the top basket in place so that it doesn't slide off of the bottom basket.
The bottom frame sports a diamond-shaped support wire. This diamond-shaped wire not only helps to hold the weight of held parts, it is designed specifically to avoid becoming caught on conveyor belts and rollers so that the basket can smoothly move on these devices without getting stuck on them.
The Mesh
For the mesh on this basket, we used thicker wires with more open space to hold parts. The larger wires have higher tensile strength per wire than finer wire mesh, prolonging their total useful life.
Because the parts to be held in these baskets were large, the wire mesh was given a relatively high amount of open space since there was no risk of the parts falling out. With this extra open space, the chemicals used in the wash process can pass freely through the mesh and provide a thorough cleaning for the parts being held in the basket, and drain away just as freely once the wash process finishes.
Handling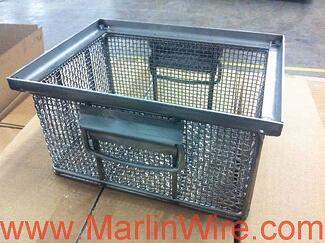 In order to make the baskets easy to handle when moving from one wash process to the next, large handles were added to the front and back sides of the basket to allow workers wearing thick gloves to grasp the handles and carry the basket easily.
Making the handles large and sturdy makes them less prone to breaking under the weight of held components, preventing possible dropping injuries from handle failures. Making them easy to hold by making them big reduces the chances of an accidental drop even further. This is important for baskets that take heavy loads, and it is a feature that a less experienced manufacturer might give sufficient consideration to.
Consistency
In order to make sure that each basket can meet the specifications necessary to allow them to stack with consistency, our engineers leveraged automated manufacturing equipment to handle the bending of the steel, welding, and other assembly tasks.
Factory automation technology allows Marlin Steel's workers to produce custom metal forms with incredible precision and consistency. Unlike a manual laborer, a robot doesn't get tired from bending metal, and doesn't get bored and inattentive of the task at hand. If a wire-bending robot makes 30 bends a minute at the start of the day, it will still be making 30 bends a minute at the end of the day, with the same level of precision as when it started work.
Because automated manufacturing equipment is so consistent, it allows Marlin Steel employees to produce baskets with micrometer-precise consistency. For baskets that are meant to stack, it is important to make sure that each steel wire basket meets incredibly tight tolerances so that each basket can properly nest atop any of the others. If baskets are not able to stack properly, then they might as well not be able to stack at all, as these rogue baskets become potential hazards.
In short, ensuring the safety of those who are going to be handling the baskets means ensuring that each and every basket is manufactured with incredible consistency.
Learn more about how Marlin Steel makes safer wire mesh baskets today!