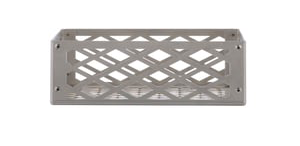 Sanitation is a big concern for many companies. For manufacturers in the food, medical, and pharmaceutical industries this is especially true, as contaminants seeping into their products can turn into a major health hazard and put lives at risk. This is why many companies in these industries search for manufacturing equipment with unique surface properties that keep bacteria and other harmful microbes from attaching to it.
Understanding that controlling sanitation in the manufacturing process is essential for safety, many food, medical, and pharmaceutical companies are turning to carefully engineered stainless steel baskets, holding trays, and parts that provide solutions to sanitation control challenges.
QUICK LINKS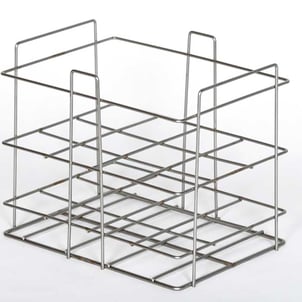 What Is Sanitation? (FDA Definition)
Sanitation is, of course, the process of making something sanitary by cleaning it, which promotes good health and prevents disease. Since not every company will have the same definition of what's sanitary and what's not, it's important to follow FDA guidelines.
The FDA developed Good Manufacturing Practice (GMP) regulations in 1969. These contain both requirements and guidelines for the manufacturing of food and drug products in a sanitary environment. GMPs consist of:
General maintenance of physical facilities
Cleaning and sanitizing of equipment and utensils
Storage and handling of clean equipment and utensils
Pest control
Proper use and storage of cleaning compounds, sanitizers, and pesticides
Employee training
Plant design
Quality assurance assessment
To make sure GMPs are followed, the FDA further developed Sanitation Standard Operating Procedures (SSOPs) which are the specific, written steps for cleaning and sanitizing to prevent product adulteration.
Challenges with Sanitation Control
One of the biggest challenges with sanitation control is the movement of products from one container to another between manufacturing processes. This is because of the risks associated with particles that settle on the surfaces of food or drug containers or products. To avoid these issues, the FDA sets specific guidelines for sanitation in the pharmaceutical and food industries.
The equipment used for producing consumable products should do the following:
Block against contaminants
Prevent liquids from pooling
Be easy to inspect
Be free of pits, cracks, craters, etc.
Be easy to sanitize or clean
This goes for the materials used to make the products as well as for the carts, trays, cabinets, and baskets used to transport the products from one process to another. High-quality stainless steel 316 equipment, like Marlin Steel's baskets, can help reduce the sanitation challenges manufacturers of consumable goods face every day.
Risks of Non-Sanitary Conditions: Illnesses, Recalls, and Lawsuits
Reducing non-sanitary conditions in the food, medical, and pharmaceutical industries is critical. Sanitization issues can lead to a whole host of issues, including:
Illnesses
Bacteria and viruses can build up on food and medical equipment, contaminating products and causing illness. In fact, the CDC estimates 48 million people get sick, 128,000 are hospitalized, and 3,000 die from foodborne diseases each year in the United States.
In addition, Class I recalls – those based on a "reasonable probability" that contaminated food could cause health problems – of meat and poultry has increased 83% since 2013.
Recalls
Time reports that food recalls are getting more common, with the total number increasing in the United States by 10% between 2013 and 2018, hitting a peak of 905 in 2016. And it's costing them through the nose. According to Food Safety, the average cost of a recall to a food company is $10M in direct costs, in addition to brand damage and lost sales.
Recalls also impact the medical and pharma industries, with about 4,500 drugs and devices pulled from U.S. shelves each year. A single major recall can cost medical device companies as much as $600 million.
Lawsuits
Class action lawsuits resulting from contaminated food are not unheard of. For example, a major food producer had to settle with hundreds of Americans for releasing a batch of salmonella-tainted peanut butter, costing the company more than $11 million.
While it's not known just how many people are sickened or die from tainted drugs since no government agency tracks cases unless they're linked to a major outbreak, pharmaceutical companies have also been involved in major lawsuits for releasing contaminated products.
How Stainless Steel Baskets Ensure Sterilization
Here are three ways Marlin's stainless steel baskets ensure sterilization and meet FDA standards.
Non-Absorbent Qualities
Beyond simple cleaning and sanitization practices, stainless steel baskets have non-absorbent qualities.
These non-absorbent qualities are due to the anti-microbial coating that Marlin Steel uses to prevent the absorption or growth of bacteria in or on its surfaces. No matter what you put in or on the baskets, you don't have to worry about the metal absorbing any of the particles or microbes that come into contact with them.
The silver ion-based coating resists dozens of strains of bacteria. This will give you the peace of mind you need to use Marlin's stainless steel baskets over and over for years to come.
Resistance to High Temperatures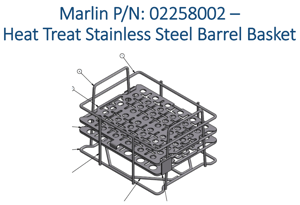 Marlin's stainless steel baskets can withstand temperatures that would melt baskets made of polymer plastic. High temperatures kill off the drug-resistant bacteria or viruses that remain on surfaces after they survive chemical cleaning and sanitation methods.
This way, you can ensure that the surfaces of your baskets are sanitized efficiently each time you use them.
Ability To Be Electropolished for Easy Sterilization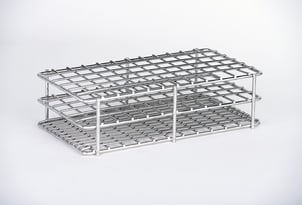 Electropolishing refers to the process of using a chemical electrolyte bath and an electrical current to remove the outer layer of a piece of metal. This process removes most of the microscopic grooves and flaws that debris can stick to during the manufacturing process, thereby creating a smoother surface and making the baskets easier to clean.
Marlin Steel's Solutions for Your Sanitary Environment Needs
If you want to avoid issues with sanitation control – and the possibility of a recall or lawsuit due to contaminated food, drugs, or equipment – choose Marlin Steel's American-made products. Our stainless steel baskets, racks, trays, and more can create a more sterile manufacturing environment, meeting FDA guidelines and saving your company from potential legal action and financial ruin. Contact Marlin Steel today to ask about the custom steel basket options that fit your needs.
Marlin Steel Wire Products LLC does not use any animal-derived materials such as BSE/TSE, melamine, or latex in the manufacturing of our products. Marlin Steel products are made exclusively of Stainless Steel 304 grade or 316 grade material and then electropolished.