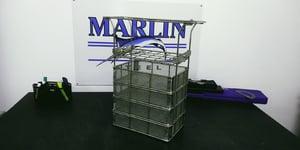 Pharmaceutical products must be held to exceptional standards for sterility. Any practices, medications, or equipment components that can compromise hygiene endangers patients. Pharmaceutical equipment manufacturing involves potent cleaning processes that require custom wire baskets for both efficiency and sterility.
A pharmaceutical company requested Marlin Steel to design and create custom wire baskets to hold orthopedic implants during their cleaning and passivation process. This client had specific needs for the basket to fulfill. Not only did the baskets have to be durable enough to withstand the harsh chemicals used in cleaning solutions and the passivation process, but the orthopedic parts were not allowed to touch each other. So, how did Marlin Steel create this basket?
How Did Marlin Steel Design This Basket?
When creating a custom wire basket for pharmaceutical purposes, Marlin Steel's engineers must decide on the types of wire forms to incorporate into the design as well as the material. These depend on the basket's application.
A Durable Material
Since washing processes for medical and pharmaceutical parts can be harsh, these baskets had to be made of corrosive-resistant materials. A cleaning process made for sterilization can contain harsh corrosive chemicals and needs a material that can withstand such a solution. In particular, the basket would have to stand up to the acid solution involved in the client's passivation process.
To avoid corrosion, Marlin Steel's team designed these custom wire baskets with a highly resistant grade of stainless steel. The stainless alloy used in the final basket design needed to be able to resist the pitting and corrosion that prolonged (and repeated) exposure to acidic solutions.
Designed for Medical Processes
When designing a custom basket for pharmaceutical or medical applications, Marlin Steel's engineers ensure that their custom wire basket design follow these guidelines:
The cleaning medium has free access to the parts being washed.
Baskets should prevent fluid buildup that could contaminate parts.
Baskets have to withstand all process stresses (such as extreme temperatures, chemical exposure, hard impacts, etc.).
Parts should be kept from falling out of the basket.
Baskets should fit comfortably within all processing equipment.
Baskets should be easy to handle in between processes.
Since the client needed these custom wire baskets to clean and passivate orthopedic parts, a stainless steel wire mesh was welded into the basket to fully enclose the basket's content on all sides. Since the basket would be fully immersed in the cleaning solution, the wire mesh offers open space that allows the cleaning and passivation liquids to freely pass through the custom wire basket so the held parts can be washed properly. The orthopedic parts themselves cannot pass through since the space between the wires is kept tight.
The separate, stackable baskets ensured that the client's parts remained untouched. The grid attached to the steel rack to hold the baskets in place was also designed so the client could wash long parts and ensure they kept upright and separated throughout the cleaning cycle.
Designed for Efficiency
One of the requirements from the client was to make the baskets stackable to create a more space efficient cleaning system. The client's cleaning tank is deep, so stackable baskets not only maximize the use of space, but also allow multiple parts to be cleaned at one time to streamline the manufacturing process and help the client hit their deadlines.
Marlin Steel created a grade 316 stainless steel rack that can hold up to four stackable wire baskets. The steel rack allows the baskets to be completely submerged in the solution, while also ensuring that the parts are securely separate in their individual baskets without touching each other.
Customizing Baskets for Any Need
Designing and creating this pharmaceutical parts washing and passivation basket allowed for Marlin Steel's client to ensure they were sterilizing their orthopedic parts accurately and efficiently. The stackable wire baskets enabled a quicker, streamlined process of manufacturing in order to meet deadlines in time and deliver to the patient.
Marlin Steel's team has had years of experience helping design, build, and deliver the best and most efficient parts washing baskets for both the medical and pharmaceutical fields to meet their needs.
Interested in a custom wire basket for your medical or pharmaceutical application or a custom wire basket for another purpose? Reach out to Marlin Steel to get started right away.